It's been a long winter. They always are. Long and dark. The darkness is probably the most challenging thing about living in Ireland, but it also makes us appreciate the light.
This soup is one of our latest favorites at home. When bubbling on the stove, hints of flavors from onions, carrots, cumin, curry and cinnamon fills the kitchen. And as you dig in you will immediately be struck by its creaminess, which is enhanced by the lentils.
Lentils are a great legume for a quick and easy meal because they cook in a very short amount of time and require no pre-soaking like other pulses do. They have a velvety texture and delicate flavour – perfect for purées and soups. They are low in calories, virtually fat free, but very filling because of their high fiber content.
In addition to providing the body with slow burning complex carbohydrates, lentils can increase your energy by replenishing your iron stores. They are one of the yummiest sources of folate (also know as folic acid) – just one cup of cooked lentils provides you with almost 90% of your daily recommended intake! Folate functions to support red blood cell production, helps prevent anemia and allows nerves to function properly.
This soup is a real crowd pleaser that will warm the hearts of anyone you serve it to, most importantly, yourself! It comes together in a snap yet is deeply flavorful. Just the thing for a cold night.
That's it for today. Go make this soup now. And while it's cooking on the stove top, why not check out my new online store!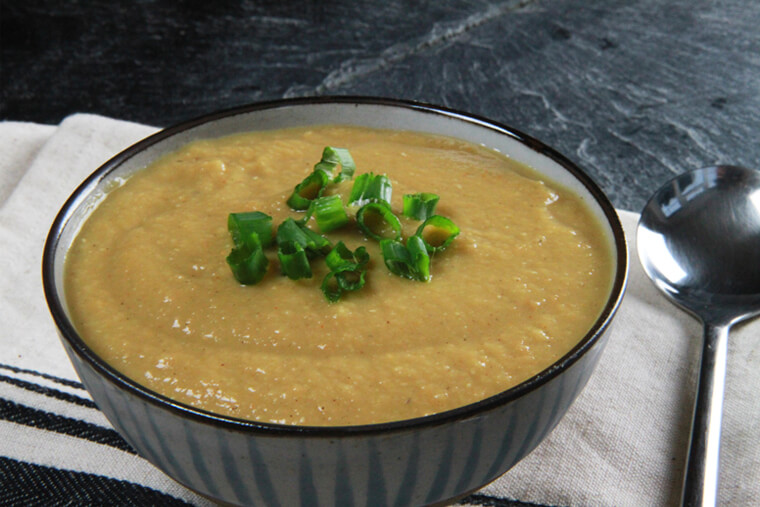 Winter Lentil Soup
Vegan & Gluten-free
Serves 4
Ingredients:
1 Tbsp. coconut oil
1 medium yellow onion, diced
2 tsp. cumin
2 tsp. curry powder
1 tsp. cinnamon
2 garlic cloves, minced
2 Tbsp. fresh ginger, minced
4 carrots, diced
4 cups vegetable broth
1 cup red lentils (I used red split lentils)
dash of cayenne pepper
salt and pepper to taste
Directions:
Add the coconut oil to a pot over medium heat.  Add the yellow onion and sauté for five minutes, until translucent.
Add the cumin, curry powder, cinnamon, garlic, ginger, and carrots and sauté for an additional 2 minutes.  Add the vegetable broth, lentils, and cayenne pepper and bring to a boil.
Simmer, covered, for 30 minutes, or until the lentils are tender. (If too much of the liquid has evaporated, you can add more vegetable broth or water).
Use an immersion blender or high speed blender to achieve smooth consistency, if so desired. It also makes for a nice chunky soup. Add salt and pepper to taste and serve hot.