With the cold and rainy days here in Ireland, this has been the perfect soul-warming kind of meal to cozy up to in front of the Christmas tree. The familiar flavors in this dish are reminiscent of the holiday season. This salad is something to savor with it's mix of fresh greens, wheat berries, roasted sweet potatoes, pecans, cranberries and a few herbs and spices. Everything comes together for a good cause: feeding your body with warmth!
Wheat berries are the whole grain form of wheat – the whole complete grain before it has undergone any processing. They're a high-fiber whole grain that can be used much like any other whole grain. When boiled, cooked wheat berries have a chewy bite and subtle nutty, earthy flavor. They are loaded with B vitamins for extra energy and battling holiday stress; as well as fiber, protein, folate, vitamin E, and calcium. Consuming whole grains can help lower the risk of heart disease, type 2 diabetes and certain types of cancer. Substituting whole grains for their refined counterparts can also help with weight control.
This dish combines some serious fall power-players when it comes to nutrition, and not coincidentally, are excellent choices for preparing the body as we head into a long winter. It can certainly be served as an accompaniment alongside a main course, but it is also hearty enough to suffice as a comforting dinner. It is delicious warm or cold.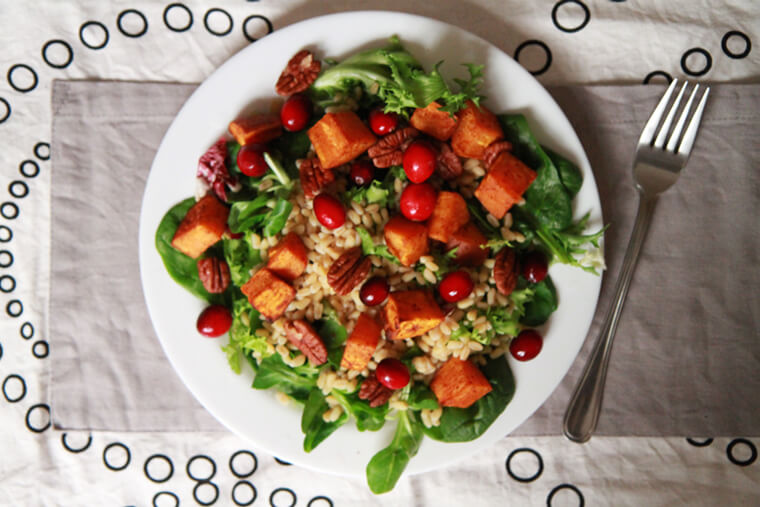 Wheat Berry Salad with Roasted Sweet Potato
Serves 2 as a meal, 4 as a side dish
Ingredients:
1 cup uncooked wheat berries
1 large sweet potato, chopped into cubes
2 tsp. olive oil
1/2 tsp. chili powder
1/4 tsp. cinnamon
pinch of sea salt
2 cups mixed greens
a few fresh or dried cranberries
2 Tbsp. pecans or walnuts
Dressing:
3 Tbsp. olive oil
1 clove garlic, minced
2 tsp. maple syrup
1 tsp. apple cider vinegar
1/4 tsp. dried rosemary
pinch of salt & pepper
Directions:
Cook wheat berries according to package directions.
Preheat oven to 400°F (204°C).  Chop the sweet potato into bite sized cubes. Drizzle with olive oil, chili powder, cinnamon and a pinch of salt. Place on a baking tray and roast for 25-30 minutes, or until they are soft and slightly browned.
Stir the dressing ingredients together, set aside.
Place washed greens in a large bowl. Place the wheat berries and hot sweet potatoes over them. Add the dressing and toss. Add in the cranberries and nuts or seeds of your liking. Gently toss again. Taste and adjust seasonings. Enjoy!
How are you staying warm during these colder months?