Oh, I've been looking forward to sharing this with you! Not only because it has become my favorite snack/meal, but also due to the fact that it is a tribute to spring and all the amazing light summer meals this time of year! While we have seen many more rain showers than we've seen the sun over the last few days, I know warmer temperatures are on the way (fingers crossed!). Spring rolls are the perfect food to get you feeling like warmer days are already here.
Before I made my first spring roll, I have to admit, I was intimidated to take on the task – especially after my sushi rolling experience. But let me tell you, once you start making your own spring rolls, you'll never stop. It is so much easier that you would think, and this way you can come up with crazy concoctions that you would not be able to order from take out. After a little practice, I know you'll be raving about them as much as me.
I love the idea of stuffing what is fresh and seasonal into a spring roll. Because spring is here, I chose to go with a mostly green veggie palette – cilantro, lettuce, avocado, cucumber and carrot for a little color and something sweet. Use whatever you have on hand and what is in season. This meal is a great way to use up all the little bits of veggies hanging out in the fridge that you haven't found a use for.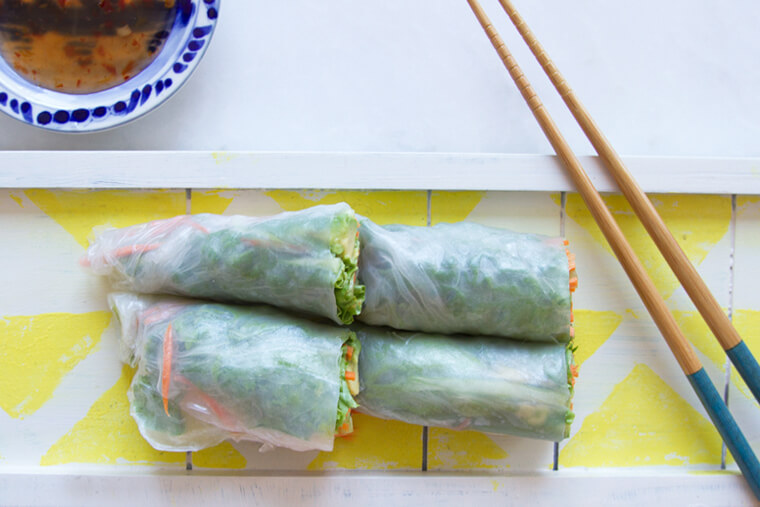 Vegan Spring Rolls
Serves 6 rolls
Ingredients:
6 rice paper wraps (found in health food shops or the Asian section of well stocked markets)
lettuce
1/2 cup cilantro sprigs
1 1/4 cup grated carrots
1 2/4 cup grated cucumber
1 large avocado
Directions:
Set up your roll work space. You need a large bowl of warm water and a damp dish towel to work on. Set out your lettuce, cilantro, carrots, cucumber and avocado.
Working one roll at a time, put the rice wrap flat into the large bowl of warm water, being careful to not let it curl up, until soft, about one minute.
Lay the wrap down on the dish towel. Down the center, like a burrito, layer the cilantro, lettuce,small handful of the carrots, cucumber and a few slices of avocado. Fold over the top and bottom ends over the filling, tuck the right flap over and then roll to close. Repeat with remaining wraps.
Photo Credit: my sister, Jenny Norris – jjnorris.com