Thanksgiving has always been a wonderful time for our family, filled with an abundance of delicious food and meaningful memories made together. Every year growing up, Thanksgiving meant going to Grandma and Grandpa's house to meet all the family. Entering the house, we would smell the turkey cooking in the oven and get a kiss from Grandma. Then we'd be off to play with our cousins till dinner was ready – usually all gathering around the organ to 'play' tunes. I remember sneaking into the kitchen later as the hunger and anticipation got unbearable. Grandma would give me a spoon to try the mashed potatoes, she always spoiled us grandkids.
When dinner time finally came, the amount of food on the table was always overwhelming. There was the traditional fare; turkey with stuffing, mashed potatoes with gravy, homemade rolls, cranberry sauce and pies galore. My grandmother was best known for her desserts. My favorite part was the mandarin orange tapioca jello salad. I would sit at the kiddie table with my sister, brother and cousins. We would eat, laugh and joke until our plates were cleared and our tummies were stuffed. To top off this joyous day, we would always have enough games of Bingo so everyone would win a prize. Grandpa would be the caller with his grand, boisterous voice while Grandma surprised us with prizes of toys and sweets.
As I've grown older, I've held on to these memories and cherish them. Every year since the passing of my Grandmother, I rise to the occasion to recreate my own family traditions, while incorporating new people and an international twist. It is now a way to share my culture and traditions with my new family; proving that home really is where the heart is.
Old-fashioned apple crisp, warm from the oven, is a favorite comfort food dessert. It really is heaven in every bite. The fresh fall apples, cinnamon and coconut sugar oozing with delight. This is just one of the many things I'll be making for our (vegan) Thanksgiving this year.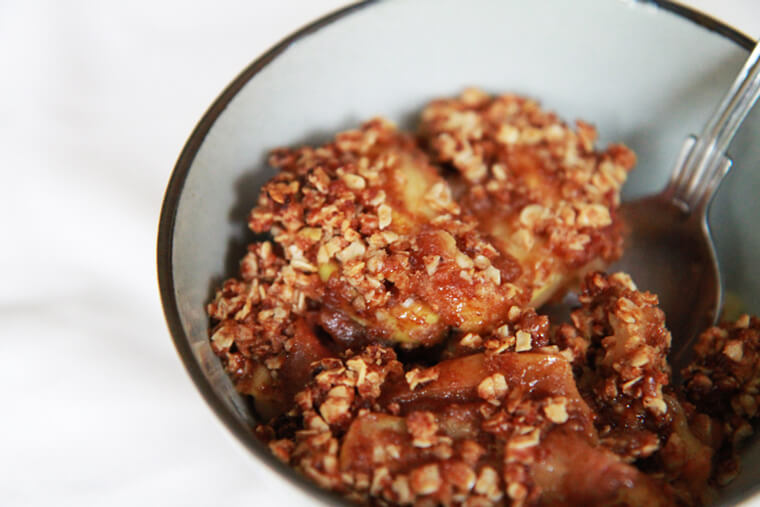 Vegan Apple Crisp
Serves 4
Ingredients:
3 medium apples (I used organic dessert apples)
1/4 cup maple syrup
1 Tbsp. whole wheat flour
1 tsp. lemon juice
1/2 tsp. cinnamon
pinch of nutmeg
1/2 cup rolled oats
1/4 cup whole wheat flour
1/4 cup palm sugar (coconut sugar)
3 Tbsp. coconut oil, plus more for the pan
1/2 tsp. vanilla
Directions:
Preheat oven to 350°F (176°C). Using your fingers, grease a small baking dish with coconut oil to coat pan (I  used a bread loaf pan.)
Slice the apples ~1/4 inch thick. In a mixing bowl, combine the apples with maple syrup, 1 Tbsp. flour, lemon juice cinnamon and nutmeg. Toss thoroughly and then transfer this mixture to the baking dish.
In another bowl add the oats, 1/4 cup flour, sugar, coconut oil and vanilla. Mix until it forms a crumble. Spoon this on top of the apple mixture.
Bake for 25-35 minutes, until the top is a bit browned. Serve warm with vegan ice cream.