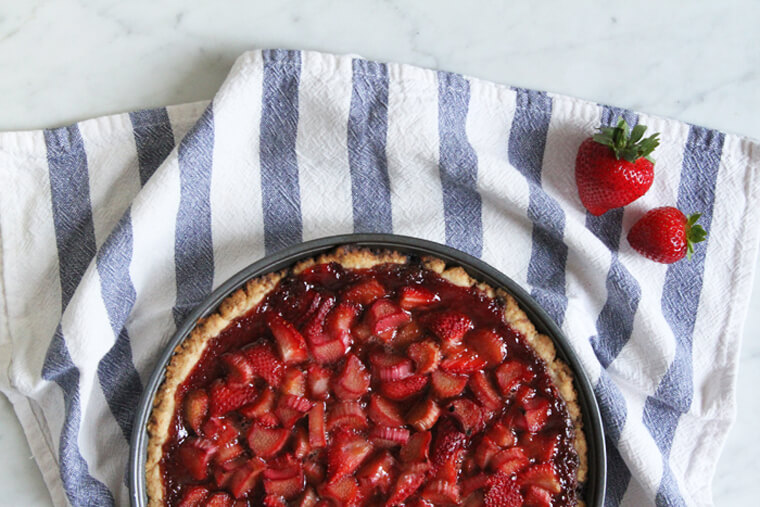 Rhubarb is one of the season's sweetest gifts. These crisp, tart stalks that look like ruby-red celery start appearing in the farmer's market in early spring. They get snapped up in a hurry by eager bakers, but to the uninitiated they are a bit of a mystery. That's because rhubarb looks so much like a vegetable — it is in fact a vegetable– and is so lip-puckering sour that someone who's never tried it before can't help but wonder how it would fit in with sweets, where it is most often used. Well, I have an easy solution to make you a believer: put some rhubarb where your mouth is. But first, bake it into a pie, like this one I have for you today.
Strawberry rhubarb pie is adored by many, in spite of or perhaps because of its old-timey charm. At their best, cooked strawberries taste like cotton candy and rhubarb is the perfect almost citrusy-sour contrast. There's no twist here, nothing fancy whatsoever. This recipe is simple, just the way I like it. I want you to have access to the most balanced approach to a strawberry rhubarb pie. This is a recipe to keep in your back pocket, taped to the inside of your pantry cabinet, or simply seared into your mind.
Vegan & Gluten-Free Pie Crust
Makes 1 approximately 9″ pie crust
Ingredients:
1 1/2 cups rice flour (brown or white)
1/4 tsp. baking powder
1 Tbsp. agave nectar, or sweetener of choice
pinch of salt
1 Tbsp. ground flaxseed + 3 Tbsp. water
1/4 cup dairy-free buttery spread, melted
cold water
Directions:
Stir together the flaxseed mixture and melted dairy-free buttery spread.
Sift together the dry ingredients over the wet ingredients. Stir the dough together – it will be soft and crumbly. Add enough cold water so that the dough can be pressed together and holds.
Lightly oil the pie pan.
Press the dough into the pie pan and up the sides as far as possible being sure to keep the crust an even thickness. I use a flat bottomed measuring cup to help make the crust even and flat.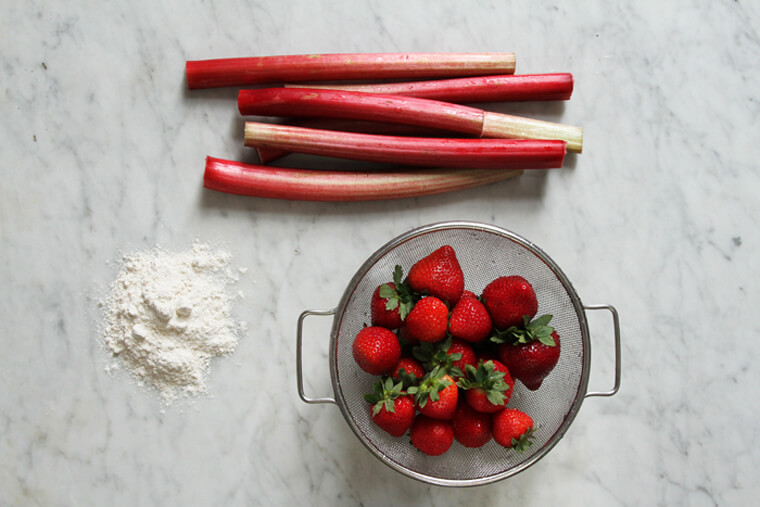 Strawberry-Rhubarb Filling
Ingredients:
3 cups thinly sliced rhubarb
2 cups rough chopped strawberries
1/2 cup agave nectar, or sweetener of choice
1/4 cup tapioca or cornstarch (gluten-free)
1 Tbsp. fresh lemon juice
1 tsp. lemon zest
Directions:
Preheat oven to 425° F (218° C).
Combine all of the filling ingredients together in a large mixing bowl.
Add filling to the prepared pie shell. Cover loosely with tin foil and poke a few holes in the foil to let steam escape.
Bake for about 20 minutes at 425° F (218° C). Lower heat to 350° F (177° C), and remove the tin foil. Bake for an additional 30 to 35 minutes, filling should be bubbling and the crust should be golden.
Place on a cooling rack and let cool for about 30 minutes before serving.
(Photo Credit: my sister, Jenny Norris – jjnorris.com)