I just returned from a relaxing trip in Ireland visiting my man. Being engaged to an Irishman makes for some interesting debates on what food should or shouldn't be (and how it should or shouldn't be pronounced). Irish scones are more like American style biscuits. They aren't sweet, but they're generally eaten with dollops of cream and jam.
The Irish use the word biscuit to describe…well, everything. Cookies are biscuits. Crackers are biscuits. I'm pretty sure everything is a biscuit.  Except for cake.  Everything else is cake. Brownies are cake. Cake is cake. Pudding is cake. Although sometimes pudding is bread. Pudding is also meat. Confused? You and I both.
There is one thing I can agree on with my man though – scones are best served freshly baked, warm from the oven with some homemade preserves or honey. Scones for breakfast or teatime; they are good all the time.
If you're not thinking of the classic Irish scones, you're probably thinking of the scones that are crumbly triangles drenched in glaze served in coffeehouses and bakeries galore. That's not what's happening here. We're using simple, natural ingredients. Although slightly more compact than a classic scone, they still have a light texture and wonderful flavor. They are especially delectable with this berry chia seed jam. If there is one thing worth debating, it is who is making tea?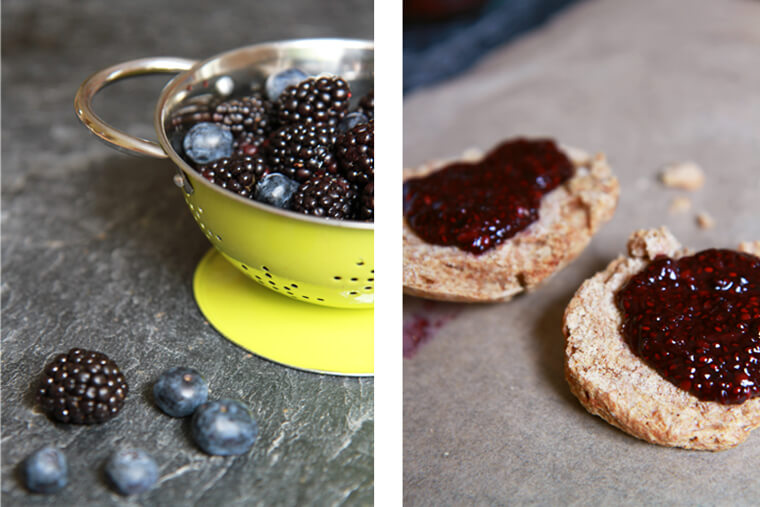 Simple Spelt Scones
Lightly adapted from Babycakes NYC Cookbook
Serves 6
Ingredients:
2 cups whole spelt flour
pinch of sea salt
1 Tbsp baking powder
1/3 cup melted coconut oil
1/3 cup maple syrup
1 Tbsp vanilla extract
1/3 cup hot water
Directions:
Preheat the oven to 350°F. Line a baking sheet with parchment paper and set aside.
In a large bowl, combine the flour, sea salt and baking powder. Stir to combine. Add to the mixture melted coconut oil, maple syrup and vanilla extract. Stir until a very crumbly/dry batter forms. Add the hot water and stir until just combined.
Grease a 1/3 cup measuring cup and fill it with portions of the dough. Drop the portions onto the baking sheet. Bake for 12-14 minutes, keeping an eye on these little gems. Allow scones to cool slightly before serving with jam.
Berry Chia Seed Jam 
Vegan & Gluten-free
Ingredients:
1 cup berries (I used blackberries & blueberries)​
1 Tbsp maple syrup
1 tsp vanilla extract
2 Tbsp chia seed
Directions:
In a blender or food processor, blend the berries up with maple syrup and vanilla until smooth. Put the mixture in a saucepan and place over low to medium heat for about 3-4 minutes while stirring occasionally. Add chia seeds and turn down the heat to super low/simmer. Keep mixing while chia seeds start to gel up and jam starts to thicken. About 5 minutes. Turn off heat and keep. ​
Pour mixture into a glass jar with a lid. When it's cool, seal up the container and store in fridge for about 5-7 days. ​