As much as I embrace an easygoing approach to all things food related and try to promote creativity and substitutions whenever possible, I have to admit this tendency does not carry over to all aspects of my lifestyle. In fact, there are certain things about which I can be kind of obsessive.
For one, I'm a sucker for lists. Going through an orderly list and checking off items as they are completed gives me an incomparable sense of accomplishment. I have lists for everything; grocery lists, errands, Christmas presents, books to read or topics to research … even the margins of my day planner are not safe from my scribbles.
As of late, I've been thinking about one list in particular. This list chronicles my food fantasies – dishes I want to try. Some are dishes I consider classics, while others are those that have grabbed my interest. The recipe I'm sharing with you today is Roasted Root Vegetables. I've been working on perfecting roasted root vegetables for a while. Getting them to come out of the oven crispy on the outside and creamy on the inside is no small feat (but when you get them right, they are oh-so delicious!).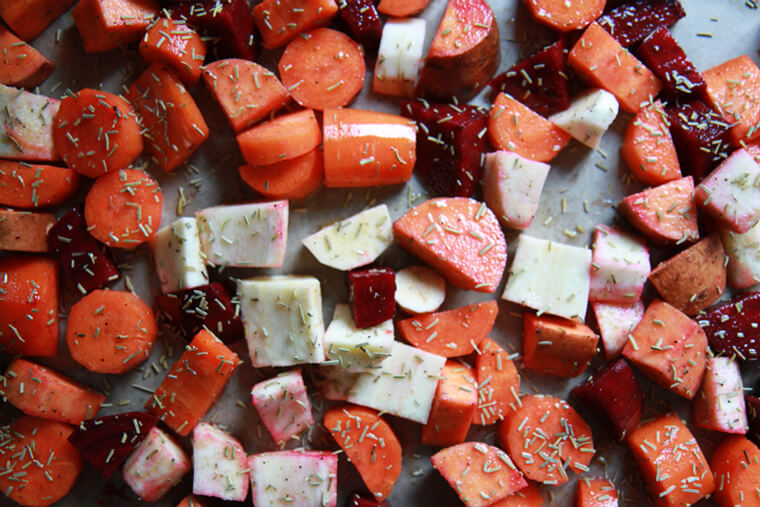 Roasted Root Vegetables
Vegan & Gluten-free
Serves 2
Ingredients:
1 parsnip, peeled and diced
1 medium beet, peeled and diced
1 large sweet potato, peeled and diced (I left the skin on)
3 carrots, peeled and diced
2 garlic cloves, minced
2 tsp. rosemary, fresh or dried
3 Tbsp. oil of choice (I used olive oil)
1 tsp. sea salt
freshly ground pepper
Directions:
Preheat oven to 425°F (218°C).
Prepare all of the vegetables, making sure they are cut about the same size.
Mix the oil, garlic, rosemary, salt and pepper together in a small cup or bowl. Using your hands, mix the vegetables with the oil mixture until well coated. The vegetables should be in a single layer on the sheet for proper roasting.
Place coated vegetables on a pan covered in parchment paper.
Place in the oven and roast for about 25-30 minutes or until the root vegetables are soft and a bit browned. Serve right away and enjoy.