Craving take-out? Whip up this easy noodle salad instead! Gluten-free and vegan, it's also a great crowd-pleasing dish to take along to parties. Soft warm noodles contrasted with crunchy peanuts and crunchy fresh vegetables, all drenched in a savory-yet-sweet-and-tangy peanut sauce. I love that it's really versatile in that whatever veggies you have in the fridge you can throw in and it comes together quickly. Instead of ordering out, make a restaurant quality meal with this healthy yet simple recipe.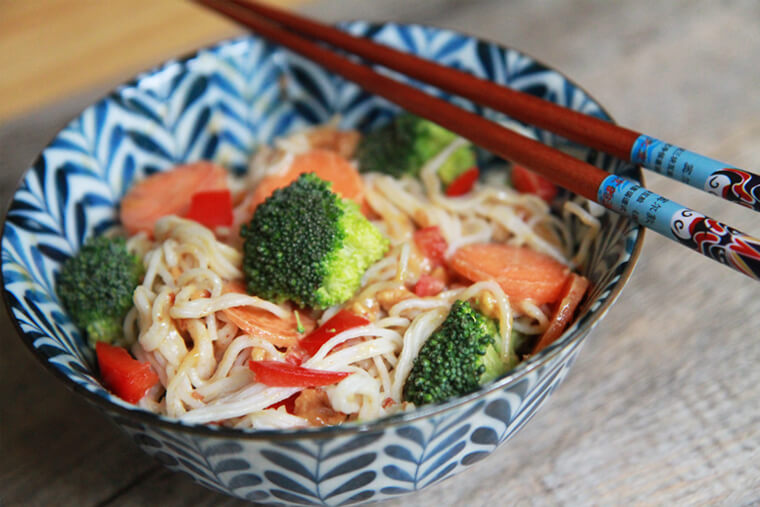 Rice Noodles with Peanut Sauce & Mixed Vegetables
Serves 2 hungry people
Vegan & Gluten-free
Ingredients:
3 cups thin rice noodles
1/2 cup carrots, roughly sliced
1/2 cup red bell peppers, roughly sliced
1/2 cup broccoli florets
1/2 cup+ other vegetables, optional (sugar snap peas, baby corn, water chestnuts, asparagus)
1 cup diced protein, optional (tofu, tempeh)
Directions:
Place rice noodles in a large frying pan on medium-high heat for about 2 minutes or cook according to package directions. Add the carrots, red peppers, broccoli, optional vegetables and protein and heat until warm.
Peanut Sauce
Ingredients:
1/4 cup peanut butter (I used chunky peanut butter)
1/4 cup olive oil
1/4 cup brown rice syrup or honey
1 Tbsp. apple cider vinegar (or the juice of 1/2 a lemon)
1 tsp.+ ground ginger
salt and pepper, to taste
pinch of chili powder, to taste
Directions:
In a small bowl, combine all ingredients for the peanut sauce and stir or whisk until smooth. Taste sauce and make flavor adjustments if desired.
Pour sauce over noodles and vegetables and toss to coat evenly. Serve immediately; or cover the bowl, refrigerate and serve chilled.