There is nothing better than a long summer's evening. With daylight stretching well past 10pm here in Ireland, there is plenty of time to unwind with a cold drink in hand. As the days get warmer and longer, nothing is quite as refreshing as a tall glass of limeade. Anyone who has made limeade from scratch before probably has their ideal ratio of lime and water down to a science. In case you don't, I've got you covered – plus we're adding some unexpected flavors. Classic limeade is nice, it is also extra nice with an added twist of rosemary and pineapple. This sunny weather classic has a woody, sour bite that would be a fine addition to any summertime spread.
Whether you're hosting a summer party or just need to cool off with on a hot day, a good drink recipe is always good to have on hand. This sultry take on the sidewalk-stand classic will be a huge hit this weekend. If you're feeling extra frisky, try adding a drop of your preferred liquor. I know what I'll be sipping on this weekend ;)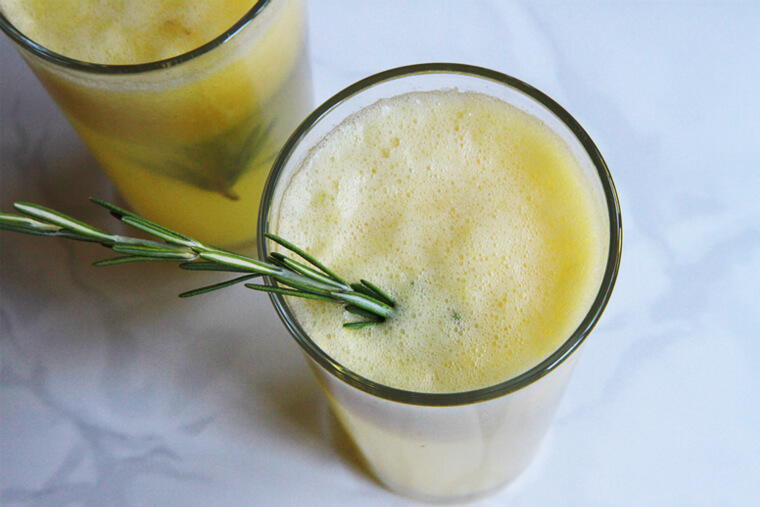 Pineapple Rosemary Limeade
Serves 4
Ingredients:
1/2 pineapple, chopped (3 cups)
2 sprigs fresh rosemary, more for garnish
1/2 cup lime juice (from about 4 limes)
12 oz club soda
Ice, for serving
Directions:
Pulse pineapple in a food processor until very finely chopped or run pineapple through a juicer. 

Add pineapple, rosemary, lime juice and club soda to a pitcher and stir to combine. Serve over ice and garnish with additional rosemary.