Vegetarian delight, pasta alla checca is a simple, quick and delectable dish from Italy. It is served in the summer months when tomatoes and basil are at their peak. It is ideally savored during the sultry months when one doesn't want to spend too much time over a hot stove. It consists of uncooked tomatoes and simple Italian herbs, basil and the outcome is delizioso (translated means "delicious").
Earlier this summer my boyfriend and I spent a weekend in Rome for my birthday. We had such a wonderful time and I wanted to recreate one of our favorite meals from our travels, but with a little twist – make it completely raw. If you are an avid tomato grower or prefer purchasing them from your local farmers, this is just the recipe for you. Take maximum advantage of the freshest tomatoes that are so bountiful during the summer season. Actually, the secret to making this dish an utter success lies in the use of the freshest, ripest and most flavorful tomatoes. Heirloom or heritage tomatoes are great for this dish as they taste good when eaten fresh.
For the "pasta" in this dish, you can use yellow squash or zucchini, or a combination of both. It's nice to leave the peel on for extra vitamins and color. A spiral slicer makes lovely noodles in just minutes, but you can always cut them by hand with a vegetable peeler, by just peeling the squash or zucchini lengthwise into long strips. Of course, shredded with a mandoline would be just fine too.
Tomatoes, which we know are a fruit and not a vegetable, are loaded with all kinds of health benefits for the body. Free radicals in the body can be flushed out with high levels of Lycopene, and the tomato is so amply loaded with this vital antioxidant that it actually derives it's rich redness from the nutrient. Intake of tomatoes has long been linked to heart health as well.
As a part of the summer squash family, zucchini not only offers delightful taste and texture to many dishes, but also carries with it many health benefits. One cup of zucchini has 36 calories and 10% of the RDA of dietary fiber, which aids in digestion, maintains low blood sugar and curbs overeating.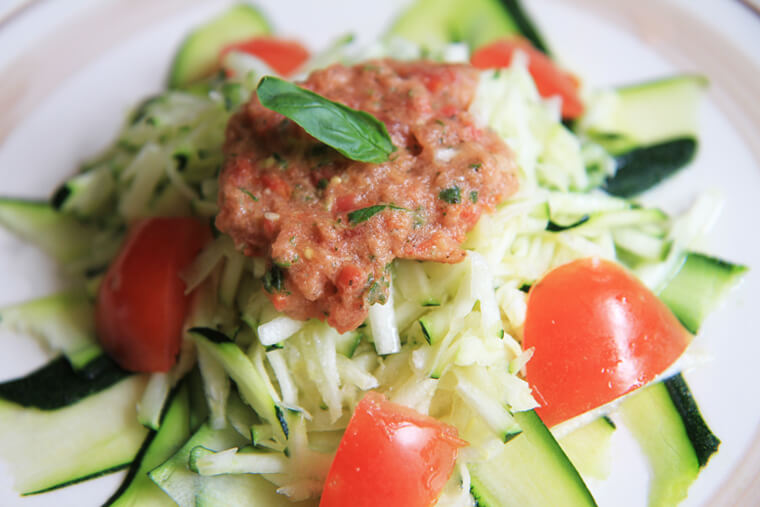 Pasta alla Checca
Vegan, Raw, Gluten-free
Ingredients:
2 large zucchinis
2 large tomatoes, diced
1 clove garlic, minced
1–2 teaspoons herbs (thyme, rosemary or Italian herbs of choice)
12 fresh basil leaves
2 dates
½ cup olive oil, or to taste
Sea salt to taste
Freshly milled black pepper to taste
Directions:
Soak dates in filtered water to soften.
Add the tomatoes, garlic, herbs, basil, dates, salt and pepper to a blender and blend until smooth. Slowly pour in the olive oil and continue blending until fully emulsified.
Trim the ends of the zucchini. Using a spiral slicer or hand vegetable peeler, slice the zucchini into noodles.
Transfer zucchini noodles onto serving plates and add sauce generously over noodles. Season to taste with pepper and additional salt, as desired. Use basil as garnish.
Buon appetito!