One of the most annoying questions that you come across as a vegan is: "What can you eat except for salad?"
I love soup, pasta, indian food, veggie burgers, cookies … but the thing that is kind of ironic is that I really eat a lot of salads. And often as the main meal. I try to vary them in different ways but one trick that I often come back to is adding fruit to the salad. Pear, strawberries, pomegranate, apple, orange, kiwi and mango all works well in salads.
In this particular salad I used orange and pomegranate. Since the salad is quite light I would normally make it for lunch or as a side dish. The last time I served this we ate it along side falafel wraps (hmmm, maybe a future blog post…)
You may have heard time and time again how antioxidant-rich pomegranates are. But you may not know that the jewel-like seeds also contain iron, calcium, vitamin C, magnesium, and a good dose of fiber.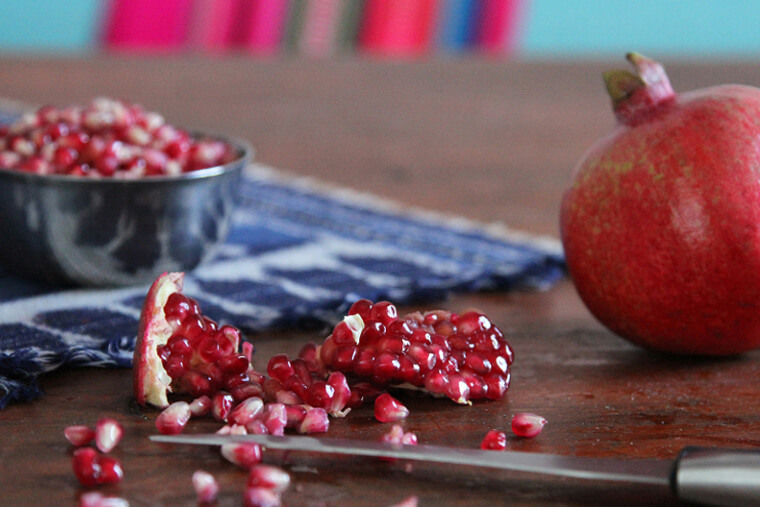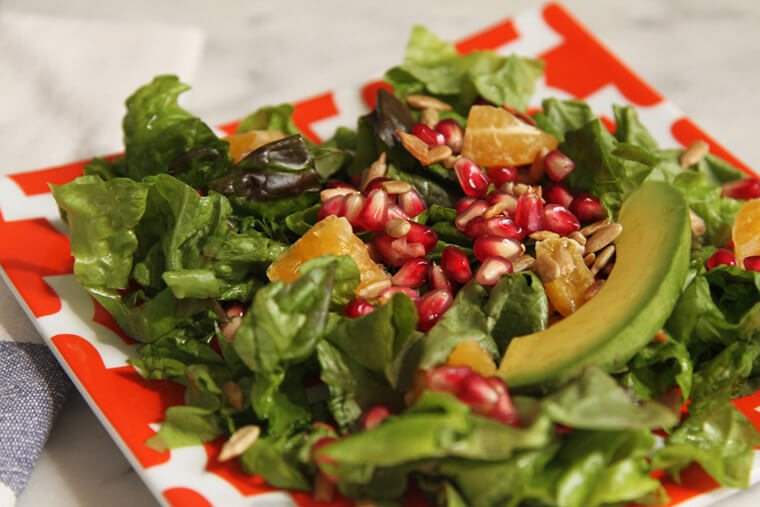 Orange and Pomegranate Salad
Serves 2
Ingredients:
3 cups green leaf lettuce, rinsed and torn
1 orange, peeled and chopped
1/3 cup pomegranate seeds
1 Tbsp. onion, thinly chopped
1 Tbsp. honey or agave nectar
1/2 Tbsp. apple cider vinegar
pinch of sea salt and black pepper
1/4 cup olive oil
sunflower seeds (optional)
Directions:
Divide the lettuce between two bowls. Peel and chop the orange. Divide the chopped orange and pomegranate seeds among the two bowls and mix gently.
In a small bowl combine the onion, natural sweetener, vinegar, salt and pepper and whisk until the salt is dissolved. Whisk in the olive oil.
Slowly add desired amount of dressing into bowls of salad. Gently toss the salad with your hands or salad tongs, coating the ingredients well with the vinaigrette. If the salad seems dry, add the vinaigrette in small increments until it is dressed to your liking.
Sprinkle sunflower seeds over salad for a little something extra.
(Photo Credit: my sister, Jenny Norris – jjnorris.com)