As the days seem to be getting colder, darker and gloomier – I just have to bake. I find it awfully therapeutic. The oven gets switched on, I toss together some ingredients while music plays in the background and I can dance my heart out. Guilty pleasure? Yes, definitely.
Peak season for fresh figs is June through October, but you can find good dried figs year-round. They're perfect to keep in your drawer at work for snacking or to take along while traveling. Figs have the highest overall mineral content of all common fruits. They're high in potassium, calcium, iron and a good source of vitamin C and fiber. In fact, they're a good natural laxative; those tiny seeds contain a substance called mucin, which apparently helps clean toxins and mucus out of the system.
I wanted to come up with a recipe using figs after reading one of my favorite raw-foods authors, Dr. Arnold Ehret, who called figs one of his top three "mucus-dissolving foods." Dr. Ehret was writing about raw foods back in the 1920s; if you can get your hands on any of his books, I highly recommend them.
Delicious enough for dessert yet healthy enough to fuel your day… these bars are filled with healthy ingredients: flax and chia seeds, dates, warm spices, oats, banana, almond milk and plenty of figs. Lightly baked to intensify their candy-like sweetness.
These bars are delicious warm or enjoy them cold. Also handy as a grab-and-go breakfast or snack.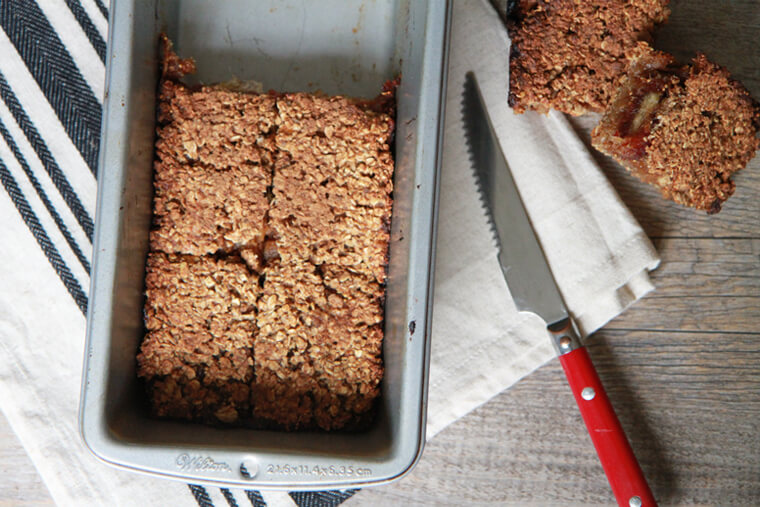 Vegan Oat Fig Bars
Makes 6 large bars or 12 smaller portions
Ingredients:
Filling
12 dried figs
3-4 medjool dates, pitted
2 cups hot water
2 Tbsp. maple syrup
2 Tbsp. lemon juice
1 tsp. cinnamon
Crust
2 cups rolled oats
1/4 cup raw coconut sugar
1 tsp. flax seed (I used milled flax seed, but whole will work too)
1 tsp. chia seed
1.5 tsp. cinnamon
1 tsp. baking powder
pinch of sea salt
1/4 cup almond milk
1 banana, mashed
1 tsp. vanilla extract
Directions:
Preheat oven to 350°F (176°C).  Grease a small bread pan with coconut oil.
Place the figs and dates in a medium sized bowl and pour the hot water on top.  Allow to soak while preparing the rest of the recipe.
Place the oats, coconut sugar, flax seed, chia seed, cinnamon, baking powder and sea salt in a large mixing bowl. Stir to combine and set aside.
In a small bowl, whisk together the almond milk, banana and vanilla.
Add the wet ingredients to the dry and mix until just combined.  Set mixture aside.
Now make the filling: drain the fig and date mixture and place in a food processor. Add the maple syrup, lemon juice and cinnamon.  Process until thick and smooth, adding a splash of water if needed.
Time to assemble – spread half of the oat mixture into the bottom of the prepared pan. Next, spread all of the fig filling over the oat base.  Finally, cover the fig paste with the remaining oat mixture.
Bake for 25-30 minutes, or until the top is golden brown.  Allow to cool before cutting into bars.