When I moved to New York, a friend of mine gave me this advice: get ready, because things are going to speed up in a New York minute! There's just something about New York City that gets people moving. And FAST. It seems I've constantly been on the go – between work, yoga classes, social engagements, writing for the blog, training for upcoming races and all the many other things there are to experience in this city.
What gives me the energy to do it all? My green smoothies! For this smoothie, I've added matcha powder. Matcha is straight, stoneground tea leaves, which provides you with green teas powerful arsenal of vitamins, minerals, antioxidants, and amino acids in a way no other green tea can. In fact, one glass of matcha is the equivalent of 10 glasses of green tea in terms of its nutritional value and antioxidant content. Matcha is also rich in L-Theanine, an amino acid that promotes a state of relaxation and well-being by acting upon the brains functioning.
This is a great option pre or post-workout. Even if you aren't facing a grueling workout, this Matcha Green Tea Smoothie or my other Green Smoothie can help you through the everyday marathon.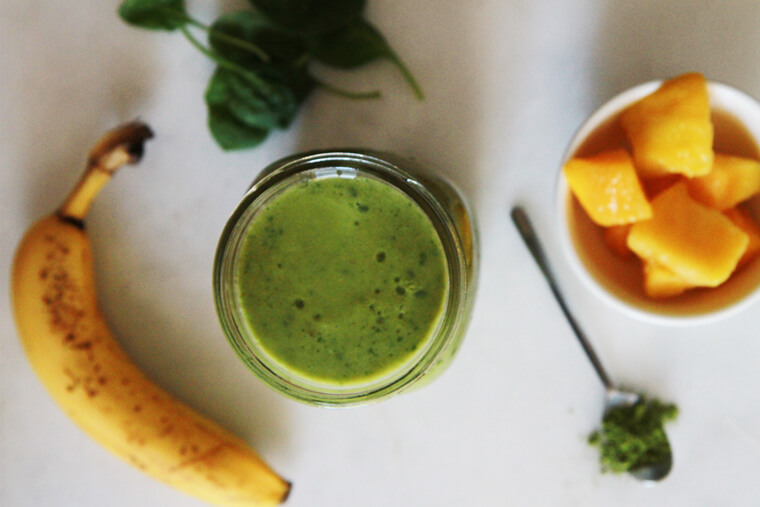 Matcha Green Tea Smoothie
Serves 2
Ingredients:
1 cup frozen mango, pineapple or peaches
1 banana
2-3 ice cubes
1 1/2 cups unsweetened vanilla coconut milk
1 large handful of spinach leaves
1/2 tsp matcha powder
Directions:
Put all the ingredients in a blender and blend at a high speed until creamy and smooth.
Pour into a a glass and enjoy.