A tasty burger patty that's high in fiber and folate and easy to prepare. Serve on a whole wheat bun or pita with your favorite toppings. Even meat-eaters will find this dish to be a delicious and hearty veggie option.
Lentil Burgers
Serves 8
Ingredients:
4 cups water
1 cup uncooked green lentils
1 cup uncooked brown rice
2 Tbsp. ground flax seeds + 4 Tbsp. water
1 medium yellow onion, diced
1 tsp. olive oil
1 cup instant or regular rolled oats
2 garlic cloves
2 tsp. dried mixed herbs
1/2 tsp. sea salt
1/4 tsp. black pepper
Directions:
Cook lentils and rice in 4 cups water for 35 minutes, simmering over low heat in a covered pan. Allow to cool.
Mix the flax seeds and water together and let sit for about 15 minutes. (This will allow it to become sticky and will be a better binder for the patties.)
Saute the onion in the oil in a pan over medium heat.  Cook for 5 minutes or until the onion is translucent.
Stir the onion and oats into the lentils and rice until mixed. Add remaining ingredients and mix well. Shape into patties and cook on griddle or pan (may spray with non-stick spray) over medium heat, until nicely browned – about 6 minutes per side.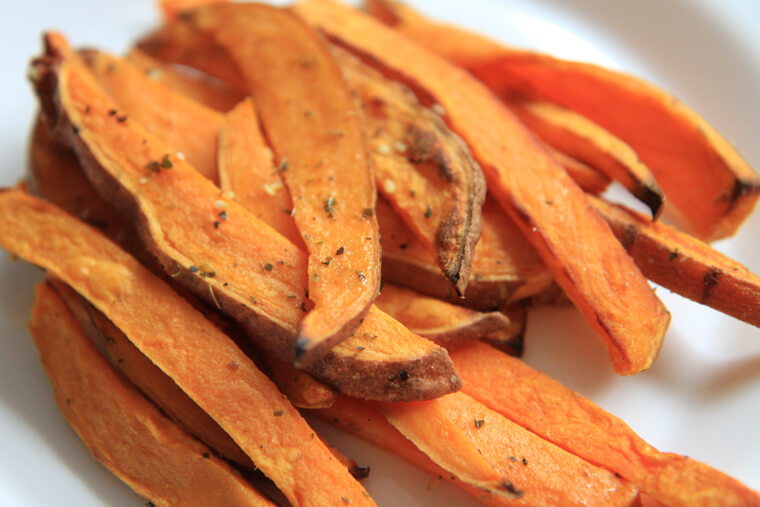 I know a lot of people are fond of their fries, but have you tried oven baked sweet potato fries? Not only are sweet potatoes readily available, inexpensive, and delicious, these yummy vegetables provide some surprising health benefits. Sweet potatoes contain vitamin A, vitamin C, manganese, fiber, B vitamins, potassium and even iron. Antioxidants abound in sweet potatoes, which also have anti-inflammatory properties. The beta-carotene and vitamin C in these tubers work together to rid the body of free radicals. Diabetics can even eat sweet potatoes without worry as they have a low glycemic index.
Sweet Potato Fries
Ingredients:
Sweet potatoes
Coconut oil
Sea salt
Spices of choice (optional)
Directions:
Preheat the oven to 400° F  (204° C).
Cut sweet potatoes into 1/2 inch strips or wedges. I like cutting them a little thinner so they turn out nice and crispy. I also leave the skins on.
In a large bowl toss sweet potato wedges with coconut oil and spices. Be sure to cover all the potatoes.
Arrange coated wedges on a baking tray and sprinkle with sea salt.  Place in oven for 30 minutes, turning once. Serve with ketchup or sauce of choice.
These dishes are a favorite in our house. We hope you enjoy them too!