Today I'm sharing a simple and satisfying lunch recipe that we prepare when we need a quick but tasty meal. This Lemon Quinoa & Chickpea Salad  is crisp and refreshing with crunchy radishes, chives, basil, chickpeas and quinoa with a lemony kick. It is guaranteed to please.
These kinds of salads have been on our table a lot lately. Throwing together a meal by using up whatever vegetables are at hand – bonus points if we don't have to go to the store. So I'm going to keep this short. Get off the internet, go do something fun outside and enjoy the fresh autumn air. And make salad.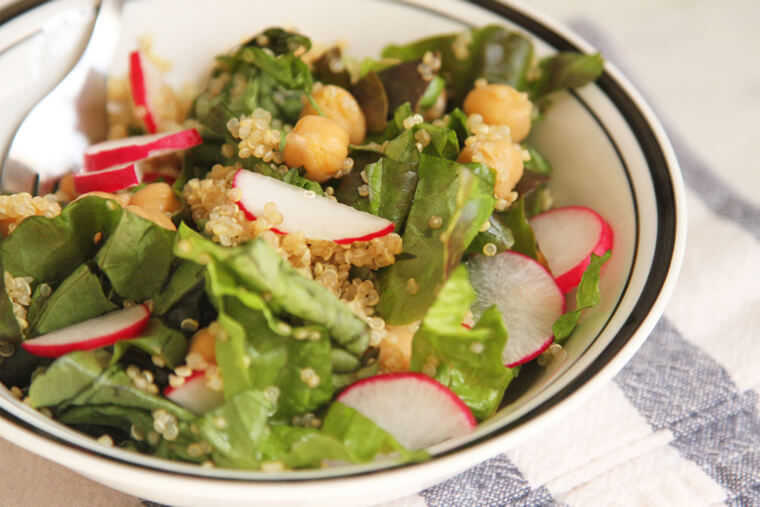 Lemon Quinoa & Chickpea Salad
Serves 2
Ingredients:
1 cup cooked quinoa
1/2 can of chickpeas, drained and rinsed
2 cups of arugula or other leafy greens
2 or 3 radishes, sliced
1/2 cup chives
1/4 cup basil
salt and pepper to taste
Lemon Dressing
3 Tbsp. olive oil
juice and zest of 1 lemon
1 clove of garlic, minced
salt & pepper, to taste
1 tsp. honey (or agave or brown rice syrup)
Directions:
Rinse & cook quinoa.
Whisk dressing ingredients together. Chop and prep the rest of your vegetables and herbs.
In a large bowl, place minced garlic and salad followed by your cooked warm quinoa. Toss it until incorporated.
Combine the rest of the veggies into the bowl of quinoa and pour dressing on top. Toss and taste. Add more salt & pepper if necessary.
(Photo Credit: my sister, Jenny Norris – jjnorris.com)
Wishing you all a lovely weekend! If you haven't done so already, be sure to sign up for the figgy & sprout Newsletter. I'll be sharing exclusive content, lots of fun recipes and little tidbits of what I've been up to.