I spend a lot of time experimenting in the kitchen tinkering with recipes, and I have to say that most of the time my tinkering turns out okay. But sometimes it's a total failure never to be spoken of at home, on the blog, or anywhere. Then there are times when I simply need to use up produce we have in our kitchen and a new creation is made unintentionally… and wow. Amazing yumminess. That is how this recipe came to be.
Avocados give this luscious dessert its rich, creamy texture. Avocados are considered one of the healthiest foods in the planet because they contain in excess of 25 essential nutrients, including vitamins A, B, C, E, and K, copper, iron, phosporus, magnesium, and potassium. In fact, you would need to eat two or tree bananas to obtain the potassium content of one avocado. Avocados also contain fiber, protein and beneficial phytochemicals such as beta-sitosterol, glutathione and lutein, which help protect against various disease and illness. Although avocado is high in fat content, it is mostly the monounsaturated fat which is a healthy fat variety.
Avocados are Mother Nature's skin moisturizer. With their healthy fats and phytonutrients, they offer remarkable benefits to human skin — both when eaten and when used topically. The avocado oil is added in many cosmetics because of its ability to nourish the skin and make your skin glow. Make your own skin mask by mashing avocado and spread on the face. Leave it on for 25-30 minutes and it'll instantly reveal radiant skin.
This mousse makes for a healthy dessert or snack that tastes great alone or layered with crunchy graham cracker crumbs. I hope you enjoy this delightful creation.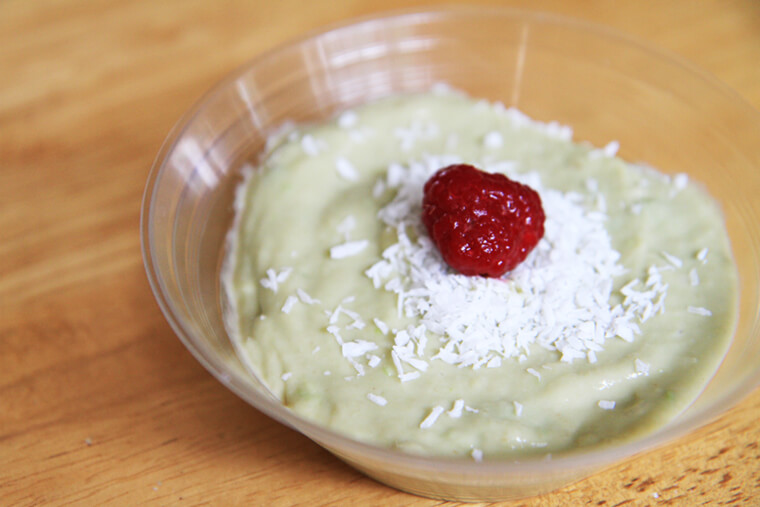 Key Lime Mousse
Vegan, Raw, Gluten-free, Sugar-free
Serves 2
Ingredients:
2 avocados, peeled and pitted
1 ripe banana
1/4 cup lime juice
2 Tbsp. lime zest
4-5 Tbsp. agave nectar
1 tsp. vanilla extract
pinch of sea salt
stevia to taste
coconut flakes (optional)
Directions:
In the bowl of a food processor, process all the mousse ingredients until smooth and creamy. Add stevia to taste and process.