Three years ago today, I posted my very first recipe on this blog. What started as a creative outlet to share my knowledge of nutrition and vegan recipes, has turned into something greater than I could have ever anticipated. I've found something I truly love doing – sharing with you! I have become connected with some of the most amazing people passionate about food, health, fitness, business and community. I've met other ladies doing this crazy food blogging thing and they are some of the sweetest and most driven people I've ever met.
Thank you to everyone who has encouraged me along the way, and especially you, my readers. I am indebted to everyone who has left comments or made a recipe – thank you for being a part of this! I am so grateful to each and every person who has come alongside me on this journey.
I'm bursting with ideas of new things to do and try. Though I haven't been posting regularly, things are about to change! I have big plans in store.
I also want to thank you all for the overwhelming response from my last post. Your kind and supportive words mean the world to me during this time of healing. I will get you up to speed on my recovery in a future post.
Now, on to the recipe!
Today I'm sharing with you a salad. Since the first recipe I shared with you was a salad, I thought it would be fitting to celebrate this anniversary with Spring fare. This is not just any ole salad, but a Kale Salad with Watermelon Radish and Pear!
Back in early March, my sister and I went home to Iowa to meet our new nephew, who very well could be the cutest little fella around. When we weren't snuggling with the baby or oohing over his every move, we were eating. After visiting the local natural food store, I tossed this beauty together. It was a big hit!
Look forward to many more recipes coming your way from this photoshoot session!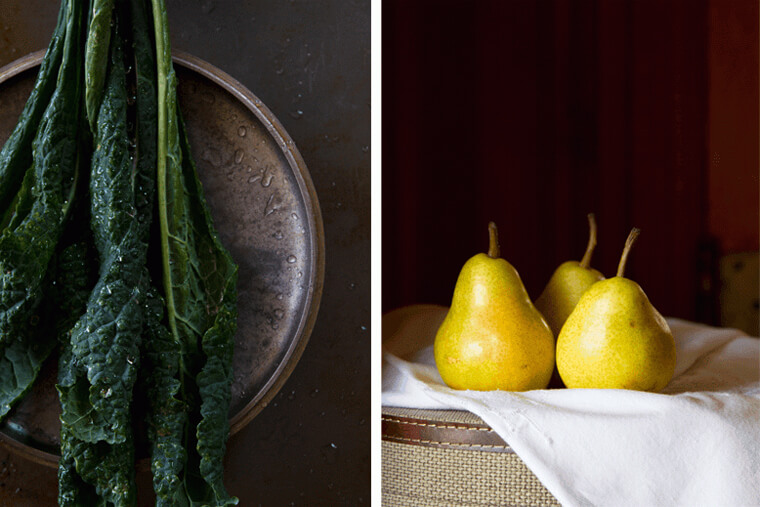 Kale Salad with Watermelon Radish & Pear
Serves 2
Ingredients:
2 cups kale, loosely packed and stems removed
1 Tbsp olive oil
1 small watermelon radish, thinly sliced
1/2 cup sprouts (I used pea shoots)
1 pear, sliced
2 Tbsp walnuts
Pepper, to taste
Directions:
Massage kale with olive oil until leaves soften.
Toss all ingredients into a bowl to combine and finish off with a dash of pepper.
Photo credit: my sister, Jenny Norris.