HOW TO MAKE YOUR OWN HOMEMADE NUT MILK
Things you need:
▫ Organic nuts or seed
▫ Large mason jar or glass pitcher
▫ Blender or food processor
▫ Nut milk bag or cheesecloth
It's as Easy as 1, 2, 3
1. Soak and rinse the nuts. Soak the nuts in water to cover overnight. Soaking de-activates the compounds that keep the nuts dormant, and activates the enzymes that make them sprout. Soaked nuts and seeds tend to be easier to digest and have better bio-availability, meaning that the nutrients have an enhanced ability to be utilized by the cells. Plus, soaking the nuts makes them tender enough to blend. Drain the water and rinse the nuts well before using.
2. Blend the soaked nuts with water. Place the soaked nuts into a blender or food processor and add about 3 cups of fresh water for each cup of presoaked nuts. If you want a thicker, richer milk, decrease the amount of water to your liking. Blend until the nuts are very fine ground and the water has turned a light milky color.
 3. Strain the pulp.  A nut milk bag is used specifically for this purpose – it's clean and easy and also reusable. A cheesecloth folded in 3-4 layers or a large fine-meshed sieve also works well. The pulp can be used for a variety of purposes (see below).

Care to add a bit of flavor and dimension? Here are a few ideas for additions:
▫ Dates
▫ Vanilla extract
▫ Brown rice syrup
▫ Agave
▫ Cinnamon
▫ Raw cocoa powder
Here are five ideas for your pulp:
1. Nut Flour. The pulp can be dehydrated or placed in a 200 degree oven until dried. Grind the dried pulp in a spice grinder or high-speed blender until fine.
2. Raw cookies. Blend the pulp with some dates, nut butter, shredded coconut and sweet spices. Roll into balls and roll in shredded coconut or raw cocoa powder.
3. Soft, raw cheese. Blend the pulp in a food processor with a little nutritional yeast, garlic, lemon juice, fresh herbs, and salt. Serve with crackers.
4. Cereal. Combine the pulp with your fresh nut milk, dried fruits, nuts and sweet spices for a porridge-like cereal.
5. Body Scrub.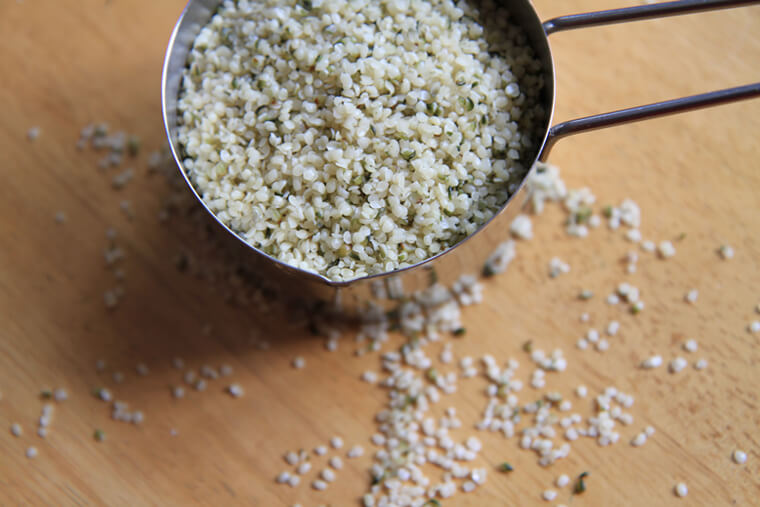 This recipe is the simplest seed milk recipe you will find. It doesn't even need to be strained. Make this when you are pressed for time. Pour it over your morning cereal, mix it in a smoothie or heat for a nutty latte.
Hemp Milk
Makes 6 servings
Ingredients:
1 cup hemp seeds (shelled)
5-6 cups of purified water
Natural sweetener, such as agave nectar or raw honey
Pinch of sea salt
Directions:
Combine the water and the shelled hemp seeds in a blender. Use more water to achieve a skim milk consistency and less water to produce a heavier cream consistency of the milk.
Turn blender on high for 2-3 minutes, or until you reach your desired consistency.
After blending you can sweeten the milk by adding: agave nectar, raw honey or vanilla. Blend again to mix sweetener. You can drink it thick or strain it through cheese cloth to remove the large seed particles.
It will stay fresh for 3 days in the refrigerator in a sealed glass container (I use a mason jar). Shake well before each use.