Happy New Year, dear readers! I hope you all had a delightful holiday filled with love and tummies filled with delicious food! Mine was slow and relaxing, with plenty of time for cooking, playing and reflections. Over the break, I came up with some new year's goals and I thought it might be fun to share them with you. I hope that this inspires you create your own list!
Consume more fresh pressed juices.
Eat a greater variety of fruits and vegetables.
Compete in a triathlon.
Volunteer in the community.
Live every day fully.
If one of your resolutions is eating healthier in the new year, this juice is a good tasty place to start. Kick things off with this beauty – a lovely pink, citrus-centric Grapefruit, Lime & Ginger Juice. This detoxifying and immunity-boosting juice recipe is easy to embrace post-holiday! It packs such a fresh punch of citrus and ginger flavor that you won't feel you're missing out on a thing. And by providing your immune system with a strong dose of vitamin C you'll be putting yourself in the right frame of mind to embrace the new year in health.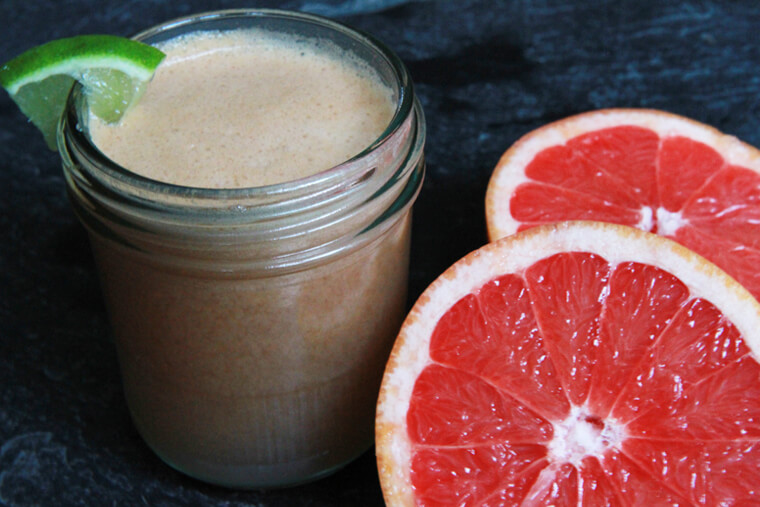 Grapefruit, Lime & Ginger Juice
Serves 1
Ingredients:
1 grapefruit, peeled (I used ruby red)
2 apples
1 stalk of celery
1/2 lime, peeled
1/4 inch knob of ginger
fresh mint (optional)
sparkling water (optional)
Directions:
Place grapefruit, apple, celery, lime, and ginger through juicer.
Pour fresh juice into a glass and garnish with a sprig of fresh mint. Enjoy.
This juice is quite strong – but invigorating! And if you like, you could even add a splash of sparkling water.
I wish everyone the best for 2013. Thanks for continuing to discover the beauty of becoming the healthiest, most vibrant self through figgy & sprout! What are your resolutions? Leave a comment below, start a conversation, make a friend, inspire one another.
Stay connected with me in 2013 through twitter, facebook, pinterest, instagram and my newsletter!