Valentine's day is silly, but I'll look for any kind of excuse to get dressed up and take my handsome man out on the town. While we don't go over the top with celebrating, I get into the spirit of the day the only way I know how to show true love: food. I baked again, and with a vengeance.
These are my latest creations – Exotic Spice Cookies. They are perfectly spicy, wonderfully soft and deliciously chewy. They are an ideal companion for a hot cup of tea. And the best part of all – baking a batch or two is incredibly easy. And on a day like today (rainy), baking is the perfect way to pass the time.
Happy baking!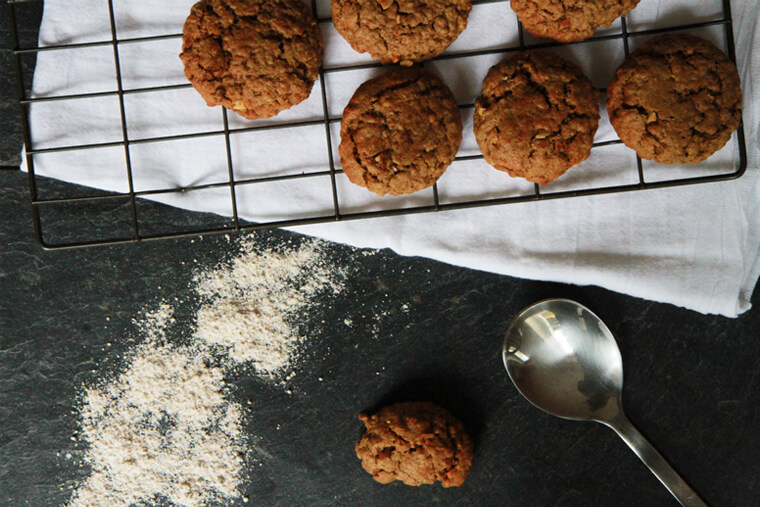 Exotic Spice Cookies 
Vegan
Makes 12 cookies
Ingredients:
1 cup quick oats
1 cup spelt flour or whole grain whole-wheat flour
2 tsp. fresh or powdered ginger
3/4 teaspoon cardamom
3/4 teaspoon cinnamon
1/2 tsp. baking soda
1/2 tsp. salt
1/3 cup nut butter (I used organic almond butter)
2 Tbsp. coconut oil or olive oil
1 cup coconut sugar
1/2 cup non-dairy milk (I used rice milk)
2 tsp. pure vanilla extract
Directions:
Preheat oven to 325°F (160°C).
In a large bowl mix together the dry ingredients: oats, flour, ginger, cardamom, cinnamon, baking soda and salt.
In a small bowl mix nut butter and oil until well blended. Stir in sugar, non-dairy milk and vanilla until combined.
Add wet to dry ingredients and stir with a wooden spoon just until combined.
Drop dough by spoonfuls onto baking sheets. Bake 12 to 14 minutes, until lightly browned. Let cool on baking sheets for 5 minutes before removing to wire racks to cool completely.