After my juice fast, I have been keeping things fresh and raw-food based. It is all my body is craving. This simple, fresh and nutritious recipe remakes the classic crunchy tacos. This recipe just might be what it takes to revive your Taco Tuesday tradition for good! Break out the guacamole and create a fun evening out of making this delicious dish.
Let's face it, eating healthy can be a challenge, but when it tastes this good, gives you this much energy, there shouldn't be anything holding you back. By eating fresh, unprocessed foods, you are actually getting more of the nutrition and enzymes that are typically killed when cooking food as well as alkalizing your body at the same time. Integrating more fresh organic foods into your diet will only do good things for your health.
So what exactly are raw tacos?  The main component is the "meat" which is simply coarsely chopped walnuts with cumin, chili powder and a bit of oil. It is super simple to whip together in a food processor. The flavors of spicy walnut taco mix, fresh veggies and garden guacamole create an absolute explosion of fresh vibrant flavors in your mouth. And not only that but you will feel refreshed and nourished after your meal. For the taco "shells" try using green leaf cabbage or romaine lettuce. This recipe puts greasy meat based Mexican food to shame.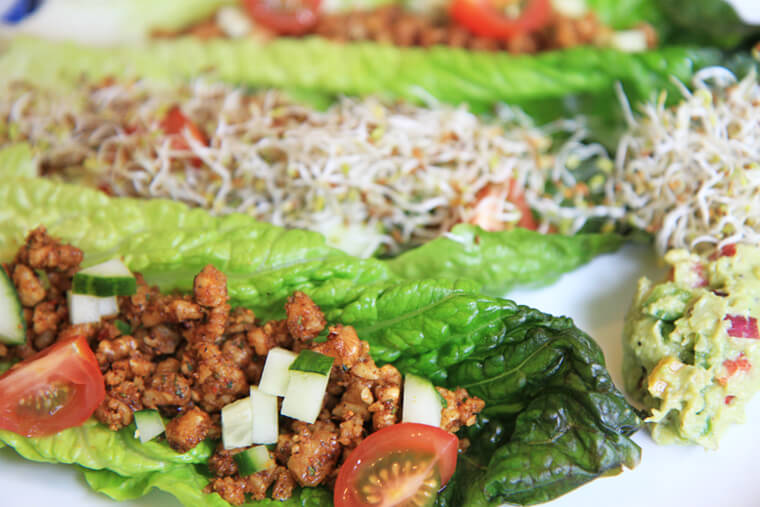 Crunchy Raw Tacos 
Vegan, Gluten-free & Raw
Serves 2
Ingredients
For the meat:
1/2 cup walnuts
1 tsp. chili powder
1 tsp.cumin
1 tsp. cinnamon
2 tsp. Nama Shoyu (raw, unpasteurized soy sauce)
1 tsp. olive oil
Directions:
Blend ingredients in a food processor and process until mixture resembles taco meat – takes 20-30 seconds.
For the tacos:
Ingredients:
romaine lettuce hearts
tomato, diced
cucumber, diced
onion, diced
sprouts (I used alfalfa)
lemon juice
Directions:
Chop and dice all of the vegetables.
Lay out your romaine lettuce leaves and scoop equal amounts of taco meat in each. Spread it around.
Next, add all of your toppings – the tomatos, cucumber, onion and sprouts. Enjoy!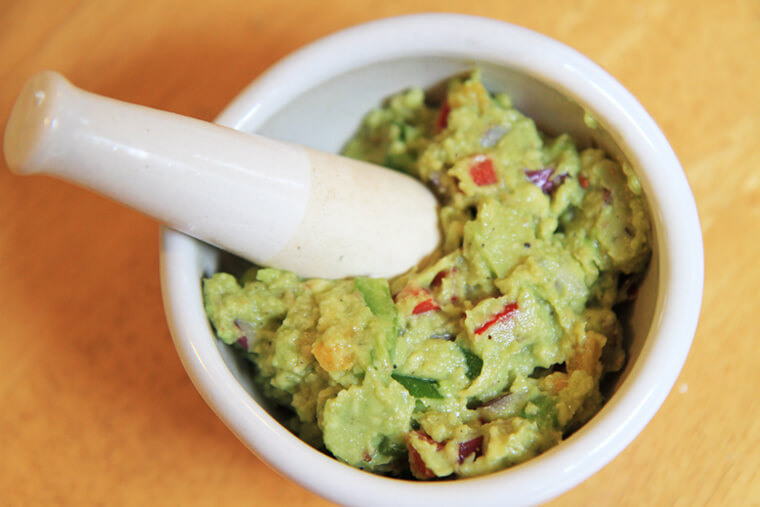 Garden Guacamole
Ingredients:
2 avocados – pitted, peeled and diced
1/2 cup red onion, minced
1/4 cup red bell pepper, chopped
1/4 cup yellow bell pepper, chopped
1/4 cup green bell pepper, copped
1 Tbsp. fresh chili pepper, chopped
1 tsp. garlic, minced
juice of 1 lime
pinch of sea salt
fresh cilantro, chopped
Directions:
Cut avocados in half. Remove seed. Scoop out avocado from the peel, put in a medium mixing bowl. Using a fork, mash the avocado.
Add the chopped onion, red pepper, yellow pepper, green pepper, chili pepper, garlic, lime or lemon, salt and mash some more. Lastly, add the fresh chopped cilantro and mix well.
Cover the guacamole and refrigerate until ready to serve.
Tip: If you are not going to eat immediately place one of the avocado stones in the bowl and cover with wrap. This will stop the dip from going brown.