It's a bright and crisp autumn day. The kind of day that is cheery but demanding of a colorful bowl of tasty soup, so that's what I whipped up! The colder weather feels as if it is here to stay. There has been an ever so slight transition that is hard to grasp, a certain feel to the air. Even though the sunshine has managed to pop it's head through the clouds, I can't seem to get warm. To combat this I've wrapped myself up in a cozy sweater and I'm cooking up a storm in my kitchen.
Rich in phytonutrients and antioxidants – butternut squash in the perfect addition to an autumn meal. It delivers an ample dose of dietary fiber, making it an exceptionally heart-friendly choice. It provides significant amounts of potassium, important for bone health, and vitamin B6, essential for the proper functioning of both the nervous and immune systems. What's more, with only a 1-cup serving, you get nearly half the recommended daily dose of antioxidant-rich vitamin C.
This is the perfect rich and creamy warming meal. Bright & vibrant, but also comforting. The butternut squash provides something sweet, the garam masala and curry bring a smoky flavor and the coconut milk is lush. I like to include live enzymes with every meal so I serve this soup along side a green salad and perhaps a slice of sprouted organic whole grain bread. This recipe will yield a generous pot of soup that you can invite friends over for or you can portion up left overs for lunch or you can freeze some for other quick meals.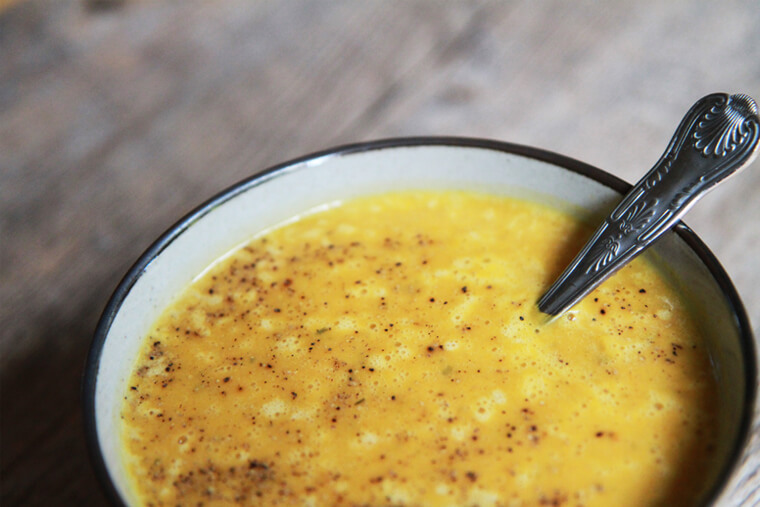 Coconut Curry Butternut Squash Soup
Vegan & Gluten-free
Serves 4
Ingredients:
1 tsp. coconut oil
1/2 tsp. cumin
1 1/2 tsp garam masala
2 tsp. madras curry powder
1/2 medium onion, minced
2 cloves garlic, minced
2 cups butternut squash, peeled and chopped
1 cup light coconut milk
3 cups vegetable broth
salt and pepper to taste
Directions:
 Add oil to a medium soup pot on medium heat. When oil is hot add onion, garlic and sauté. 
Add cumin, garam masala, curry and mix well cooking another minute. Add broth, light coconut milk, butternut squash and cook covered until squash is soft, 12-15 minutes.
Remove cover and using an immersion blender , puree soup until smooth. Season with salt and fresh pepper.