For most of us, we can't think of the word chia without thinking of Chia Pets – those enigmatic, ceramic, living dolls that were a hallmark of 1980s culture. Who would have thought that those funny Chia Pets use some of the most nutritious seeds around?
These tiny seeds are powerhouses of nutritious energy, extremely filling and relatively low in calories. Chia seeds are remarkably high in omega-3 fatty acids and calcium. They're full of soluble fiber which is what makes them expand into a gelatinous pudding of sorts when they are soaked in liquid. With a high concentration of easily digestible protein, these little seeds fill you up and keep you energized. Some people call them the perfect food for athletes and dieters alike.
These seeds figured prominently centuries ago in Mayan, Incan and Aztec cultures, where they were valued as an endurance food, and even used as currency. (Chia is the Mayan word for strength.) Its a wonder to me why so many athletes are carrying around those weird packets of alarmingly colored, artificial-protein gel. Here's a nice tip I've learned – soak chia seeds in water and use that as a fuel for your workouts. When I'm out for a long run, especially during my distance races, I bring along with me a drink of soaked chia seeds. It is a naturally perfect energy food.
Making this sweet, comforting and healthy snack (or breakfast, or dessert) couldn't be easier. Simply pour the ingredients into a bowl, stir, walk away long enough to fold your laundry, do the dishes or maybe call your mom, then come back and it's done. Or stir it up at night before you go to bed, put it in the refrigerator, and you'll wake up with your energizing breakfast ready to go as you run out the door.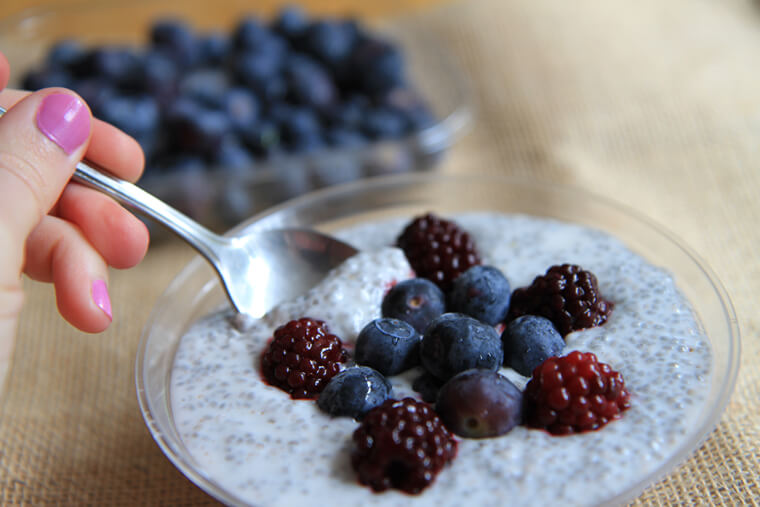 Chia Pudding
Serves 4 to 6
Ingredients:
1 cup chia seeds

3 cups nut milk, coconut milk, or hemp milk
2 to 4 Tbsp. agave nectar
1 tsp. vanilla extract (optional)
1/4 tsp. cinnamon (optional)
Pinch of sea salt
Directions:
Place the chia seeds, milk, agave and salt in a bowl (add vanilla and cinnamon, if desired) and stir well, so there are no clumps and all the chia seeds are coated in milk.
Let this set at room temperature for 20 to 30 minutes, or cover and refrigerate. This pudding will keep well in the fridge for days.