The Christmas tree is up, the decorations are hung and my collection of Frank Sinatra Christmas tunes are on repeat. While many begin the frantic two-step of holiday frenzy I try to remind myself that these cooler months call for a slower, more introspective way of life. Even now as I type and my mind flirts with the notion of a hot bath and warm bed, I sigh with relief that the month of December has arrived. May we remember amongst the gifts, traditions and warm cider what this season truly is about.
This will be my first Christmas spent in Ireland and although I am often hit with pangs of homesickness for my family and friends in America, I am thankful to share this special season with my Irish family. For the holiday we are traveling to the countryside to be with my boyfriend's family and as the trip nears I'm starting to wrack my brain with ideas for festive sweet treats to bring in hand. I'm thinking these Chewy Macaroons will make a lovely addition to the Christmas dessert selection. A bite into one of these sweet tasting treats and one will enjoy the contrast of a crispy exterior to a soft and chewy interior.
I wish you all a wonderful weekend filled with joy and expectancy of all the good things to come! And may you too find your days refined to a slower pace, leisurely changing from one minute to the next.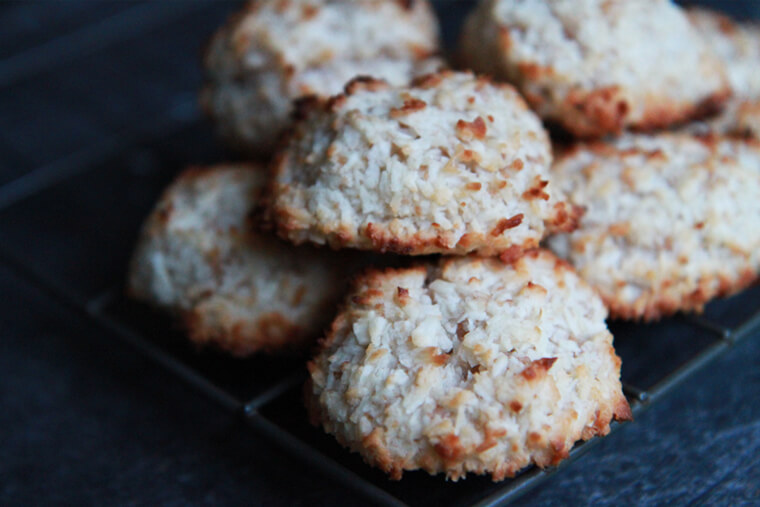 Chewy Macaroons
Makes 12-14 cookies
Ingredients:
1 cup light coconut milk
1 Tbsp. coconut oil
¼  cup maple syrup or brown rice syrup
¼ tsp. sea salt
¼ cup flour (I used spelt)
1 tsp. vanilla extract
2 cups unsweetened shredded coconut
Directions:
Preheat oven to 350°F (176°C).  Boil milk on medium high and add coconut oil, sweetener of choice and sea salt. Whisk in flour. Boil for about 2 minutes and lower the temperature to medium low for another few minutes.
Add mixture to a small mixing bowl and add vanilla. Stir in the shredded coconut.
Drop rounded teaspoons onto a cookie sheet. Bake for about 16 minutes or until golden.