As the seasons make their transition outside, it feels so right to make one inside. This year I have made it a personal goal of mine to sip on more green juices. Enjoying green juices daily is the best way to alkalize the body with extremely vital nutrients that nature provides for us, in turn supporting a healthy immune system that will protect us from disease. Juicing these greens allows for the vital nutrients to be assimilated easily and immediately, giving you an immediate energy boost.
I drink this juice almost daily, and with good reason. The base is cucumber, which is a little known nutritional powerhouse. Its loaded with potassium, magnesium, vitamin C and folate while being very low in calories. It is a perfect choice for before or after exercise since its loaded with electrolytes. After adding cucumber, I throw in celery, apple, spinach and mint -creating an extremely potent, detoxifying cocktail.
Freshly squeezed juice is a wonderful drink all year round. You can easily vary it and use all sorts of vegetables and fruits. A rule of thumb is to use 80% vegetables and 20% fruit in order to get a perfectly balanced sweetness and avoid too much fructose (natural sugar from the fruit). Lemon, lime, ginger and fennel are some of the taste boosters you can add to any juice.
An important tip: always buy organic fruits and vegetables to use for your juice making. This way you can avoid peeling your fruit and vegetables and instead use all of their tasty parts and get all those lovely vitamins and nutrients.
Grab your organic wonders and follow me…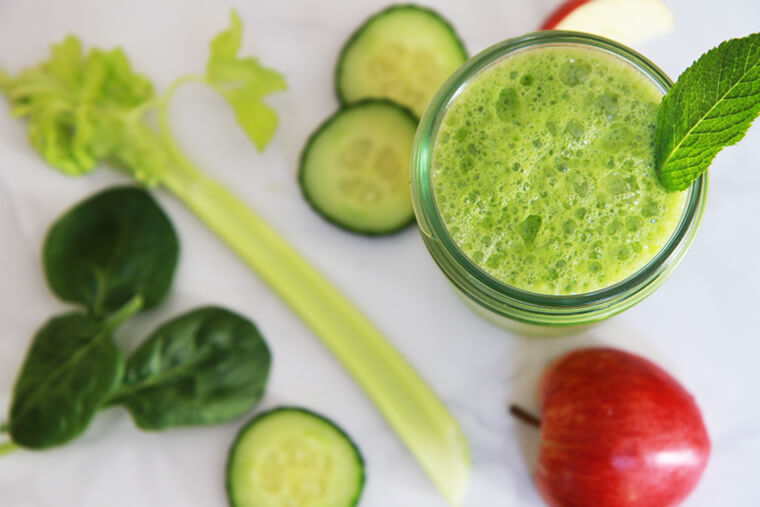 Celery, Cucumber & Mint Juice
Serves 1
Ingredients:

1 medium cucumber
1 celery stalk
1 apple
1 handful spinach (or other greens)
2-3 sprigs mint
Directions:
Rinse all ingredients.
Add ingredients through juicer.
Serve and enjoy!
How are you enjoying spring? Would any of you be interested in joining me for a juice cleanse or raw food detox the first week of May? This is a good time of year to do a cleanse or detox because the weather is warming up so our bodies can take more raw foods plus more fruits and veggies are coming into season. Let me know your thoughts below!