I returned yesterday from my holiday in America. It was a time of catching up with family and old friends and exploring a city that I called home for many years. I kept myself busy by going to art museums and the science center, bowling, the cinema, holding giggly babies, cooking for the family, playing games, going on long drives and even longer walks. It was a fun few weeks to say the least. Though I'm pretty jet-lagged from my travels, I have a recipe to share with you today.
As part of the Fabulous Fermentation Week, my two food blogging friends, Elenore from Earthsprout and Sarah from My New Roots, sent an email asking me to participate. I jumped with joy for the opportunity to work with these two lovely ladies. I want to celebrate Elenore and Sarah's wonderful effort to spread the word about the great benefits of fermentation with some raw almond yogurt.
Probiotics are getting a big publicity boost in mainstream media these days. They have always been good for us, but now people seem to be talking about them more, which is a good thing. Acidophilus provides the health benefits of fermentation, the largest of which is the introduction of probiotics into our system. A balance of good bacteria is necessary for optimal immune system functioning and intestinal health. In addition, fermented foods aid our bodies in absorbing vitamins (particularly vitamins C and B12), minerals and omega-3 fatty acids from food.
Probiotics are good to have in the morning, when your body will absorb them more readily. That makes this yogurt a great breakfast. Try adding fruits such as kiwi, pineapple, banana, peaches or fresh berries. I tried mine with a sprinkle of cacao nibs and hemp seeds. Delicious.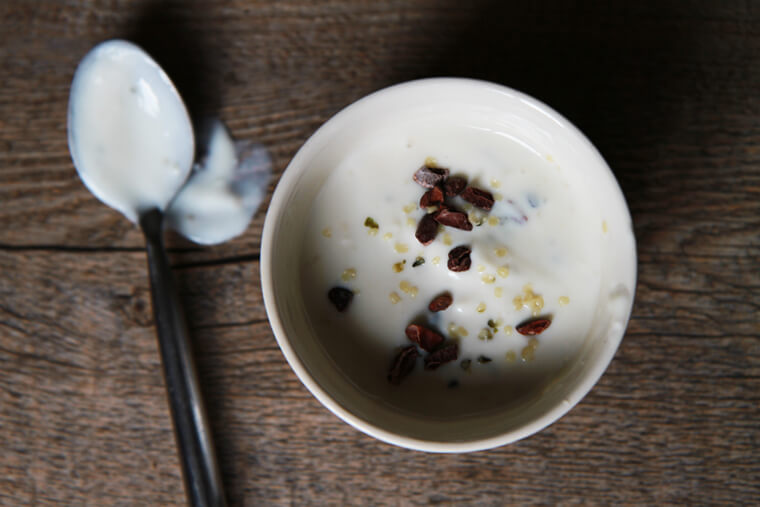 Raw Almond Yogurt
Vegan, Raw & Gluten-free
Makes about 2 cups
Ingredients:
1 cup raw almonds, soaked in distilled water for 24 hours
2 cups coconut water (or distilled water)
1 Tbsp. maple syrup or honey
1/2 tsp. probiotic powder (or the content of 3 probiotic capsules)
Directions:
First, soak your raw almonds in water for 24 hours. Soaking the nuts will activate the dormant enzymes and release the nutrients. It also makes it easier to break them down in the blender.
Add soaked almonds, coconut water (or distilled water), sweetener and probiotics to a high speed blender and blend until smooth.
Next, using a fine mesh strainer or nut milk bag, strain the liquid into a glass bowl.  This will remove fibers and almond skins and will help achieve a creamy texture.
Cover the glass bowl with a paper towel or clean dish towel and let sit at room temperature for 6-8 hours. This will allow the probiotics to proliferate and thicken the yogurt.
Serve immediately or slightly chilled. Store covered in the fridge for up to a week.