When fresh markets, farm stands and gardens are overrun with ripe tomatoes, cucumbers, peppers and onions, I could eat gazpacho every day. I love to make runs downtown to the Union Square Farmers' Market to check out the fabulous local produce. I look for the juiciest tomatoes I can find to make this refreshing and zesty gazpacho. There are no hard-and-fast rules in making this recipe. You can adjust the amounts and types of vegetables to your liking.
This soup is a celebration of freshness – in the body and in the season.  
What are some of your favorite ways to use your farmers' market bounty?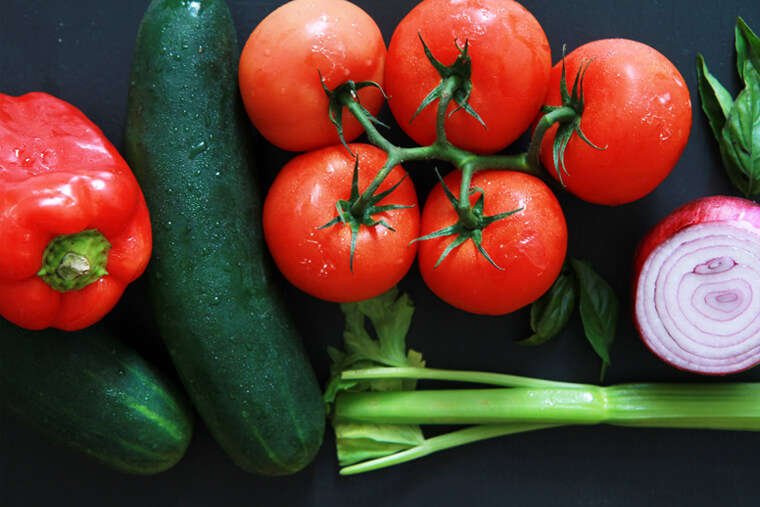 Farmers' Market Gazpacho
Serves 2-4
Ingredients:
5 ripe tomatoes, coarsely chopped

1/2 cup tomato juice
1/4 cup red bell pepper, finely diced
1/4 cup celery, diced
1/4 cup red onion, finely diced
1 medium garlic clove, minced
1/4 cup cucumber, seeded and diced
4-5 fresh basil leaves, finely chopped (more whole leaves for garnish)
fresh ground pepper, to taste
Directions:
Place the tomatoes and tomato juice in a blender and process until smooth. Transfer to a large bowl.

Add the chopped bell pepper, celery, red onion, garlic, cucumber, basil and black pepper to the soup and stir well. Cover and chill in the fridge overnight. This allows for the flavors to meld. 

To serve, ladle the soup into bowls and garnish with whole basil leaves. Enjoy.