Carrots and a hint of fresh ginger are blended to create this simple yet tasty soup. Perfect for lunch or dinner. This soup is a celebration of freshness – in the body and in the season. Using the beautiful local produce that I purchased from the farmers' market, I was feeling inspired to create something that tastes clean and bright, especially after all of the rain and cold temperatures we've been experiencing in Ireland.
This soup is simple and healthful in so many ways. First and foremost carrots are one of the best dietary sources of beta-carotene. An antioxidant nutrient, beta-carotene boosts the immune system, protect cells from the damaging effects of free radicals, helps your reproductive system function properly and provides a source of vitamin A.
Carrots stimulate the production of immune cells that protect the body from all types of infection; guard against cardiovascular disease; reduce inflammation, and slow the aging process. They are especially important in building healthy skin, tissue and even teeth! And the rumors are true: carrots improve eyesight. Research has also established that eating a beta-carotene-rich food at least once a day significantly reduces the risk of macular degeneration.
Ginger root has been used as a natural remedy for many ailments for centuries. Now, science is catching up and researchers around the world are finding that ginger works wonders in the treatment of everything from cancer to migraines. Ginger is most commonly known for its effectiveness as a digestive aid. By increasing the production of digestive fluids and saliva, ginger helps relieve indigestion, gas pains and stomach cramping. Ginger root is also used to treat nausea related to both motion sickness and morning sickness. Ginger's anti-inflammatory properties help relieve pain and reduce inflammation associated with arthritis, rheumatism and muscle spasms. Ginger's therapeutic properties effectively stimulate circulation of the blood, removing toxins from the body, cleansing kidneys and nourishing the skin.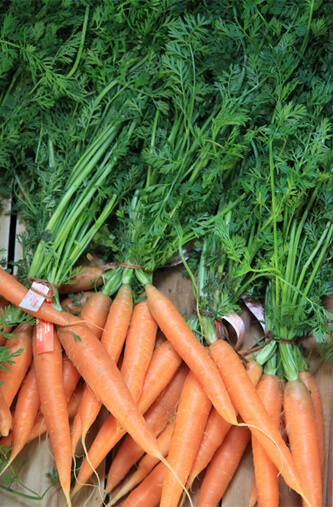 Freshly grated ginger gives this sweet carrot puree a little added heat and flavor. For some crunch, add a garnish of toasted pumpkin or sunflower seeds.
Carrot Ginger Soup
Serves 4
Ingredients:
4 cups low-sodium vegetable broth, divided
1 yellow onion, chopped
3 cloves garlic, finely chopped
2 tsp. freshly grated ginger
1 pound carrots, coarsely chopped
1 medium potato, peeled and cut into 1-inch chunks
Sunflower seeds (optional)
Directions:
Heat 1/2 cup broth to a simmer in a medium saucepan over medium-high heat. Add onion and garlic and cook until tender, about 6 minutes, stirring occasionally.
Stir in ginger, carrots, potato and remaining broth and heat to a boil. Reduce to a simmer, cover and cook 25 minutes or until vegetables are tender.
In batches, carefully puree in a blender. Add water or broth if needed to thin to desired consistency. Reheat soup if necessary. Garnish with sunflower seeds, if so desired.