Although we manage to find time for a few nibbles in the morning, we're just not that into scarfing down a big meal at the beginning of our day. Instead, we'd much rather enjoy a big breakfast as the day is winding down and truly take our time and savor such traditional and comforting flavors. These homemade pancakes are especially popular in our house as they're quick and easy to make plus they make for a delicious, wholesome treat.
Perhaps it's because buckwheat used to be a lot more popular a hundred years ago, but there's something about buckwheat pancakes that hearkens back to an earlier time – the days of pinoneering, log cabins and pot belly stoves. It may surprise some people to learn that buckwheat is actually a fruit even though it is commonly thought to be a grain. Buckwheat is a fruit seed that is related to rhubarb.
Numerous health benefits are buckwheat`s prime claim to fame. Firstly, it does not contain gluten, so it makes an excellent substitute for other grains in the diet. Studies have indicated that consuming buckwheat may combat high blood pressure and high cholesterol. Also, buckwheat does not lead to peaks in blood sugar levels. The protein in buckwheat contains the eight essential amino acids and is also high in lysine. Buckwheat is also rich in many B vitamins as well as phosphorus, magnesium, iron, zinc, copper and manganese. Plus it's an excellent source of fiber.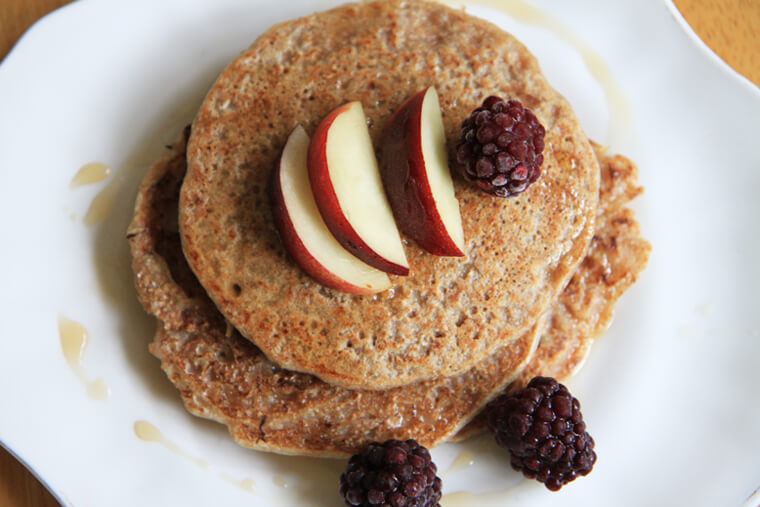 Buckwheat Pancakes with Nectarines and Blackberries
Vegan, Gluten-free, Wheat-free, Sugar-free
Ingredients:
1 cup buckwheat flour
2 cups water
Pinch of sea salt
Coconut oil for frying
fresh nectarines
fresh blackberries
maple syrup, for serving
Directions:
 Place flour into a medium mixing bowl. Gradually add water and stir using a whisk or fork to remove lumps. Mix until paste is formed. Leave to settle for about 20 minutes.
Heat a pan over medium-high heat and add a little coconut oil. Ladle just enough batter onto hot pan to coat whole surface.
Cook for about a minute and a half on the first side or until the surface is covered with small bubbles and the underside is nicely browned. Flip and cook for about a minute on the second side. I always need a few practice tries (munching the unsuccessful ones is a bonus!).
Serve stacked high with plenty of maple syrup topped with fresh fruit.
What are a few of your favorite ways to whip up a little breakfast for dinner?