There's nothing like a trip to the market to really get the creative juices flowing. I was so inspired in fact, that my walk to the market to buy every type of citrus fruit in sight, also yielded another bright idea: a citrus salad. How do you like them apples…err…oranges? I really do believe that eating seasonally is one of the most important steps to take towards personal health, which means choosing more locally-grown fruits and vegetables and preparing them in a way to support the body's needs. However, it is possible to eat well according to the season, and still have lots of flavor and variety.
My fresh take on the classic Moroccan salad pairs shaved fennel and red onion with assorted beets, grapefruit and oranges for color contrast. Served alongside some gorgeous greens, it's a complete meal to share with someone special. I hope you all enjoy this uncomplicated dish as much as I do. It's amazing how something so simple can be so mind-blowingly tasty.
Get yourself to the shops quick and pick up some of your favorite fruits before they are out of season! And perhaps get into some of the lesser-known citrus that is sure to please. Ever tried a kumquat? How about a tangelo or minneola? Yum.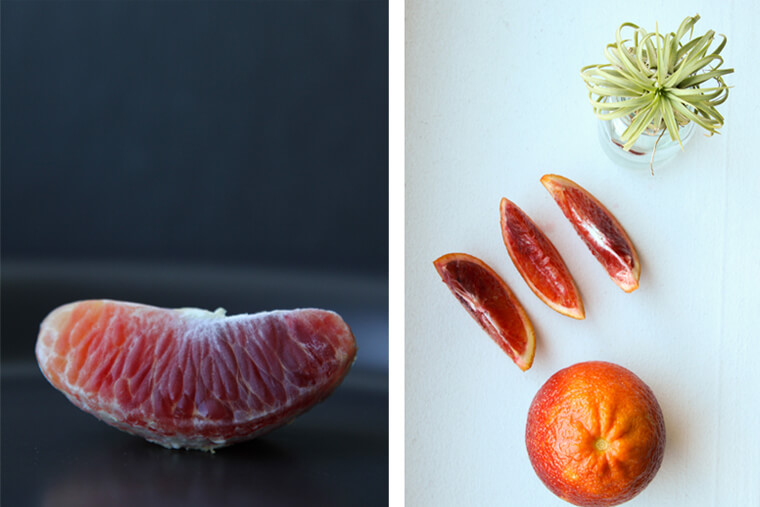 Blood Orange, Beet & Fennel Salad
Raw, Vegan & Gluten-free
Serves 2
Ingredients:
1 blood orange
1 medium grapefruit
1 medium red beetroot, top trimmed
1 tsp. fresh lemon juice
1 tsp. fresh lime juice
1/2 small fennel bulb, very thinly sliced crosswise on a mandoline
1/4 red onion, very thinly sliced on a mandoline (about 1/3 cup)
olive oil, for drizzling
sea salt and freshly ground black pepper
fresh cilantro leaves
Directions:
Using a sharp knife, cut all peel and white pith from oranges and grapefruit. Place sliced fruit in bowl and add lemon juice and lime juice.
Remove the skin of the beetroot and slice crosswise into thin rounds.
Layer beets,oranges and grapefruit on plates, dividing evenly. Arrange fennel and onion on top. Spoon reserved citrus juices over, then drizzle salad generously with oil. Season to taste with coarse sea salt and pepper. Garnish salad with cilantro leaves.
(*Photo Credit: my sister, Jenny Norris – jjnorris.com)