Happy new year to you! I hope that your holidays were filled with lots of warmth, love and happiness. A new year is a brand new beginning so let's kick things off with renewed energy and a sparkling fresh focus. You may have noticed that I've been pretty quiet on the blog for the past few months. That's because I'm head down in creativity mode creating HUGE and very EXCITING new projects that I'll be bringing your way next month and later this spring! One of the surprises may be an updated look to the blog!
I've been chatting with some of you about what kind of recipes are helpful to you, and it sounds like we are all very busy people. Too busy to make breakfast, too busy to make lunch and too busy (and tired) to come home and make dinner. With that in mind, I am trying to include more recipes for busy people so that they can eat homemade + healthy more often. Starting with breakfast.
This one right here takes minimal effort and can be made ahead of time. As you would expect, it is dairy-free and gluten-free and oh-so delicious. The idea of this bircher is to create an easy weekday meal that can be portable if needed. You then have the option to eat it as is, or add some extra bits and bobs as toppings. This is a fabulous start to the day. It provides a complete balance of sustaining complex carbohydrates, protein and essential fats.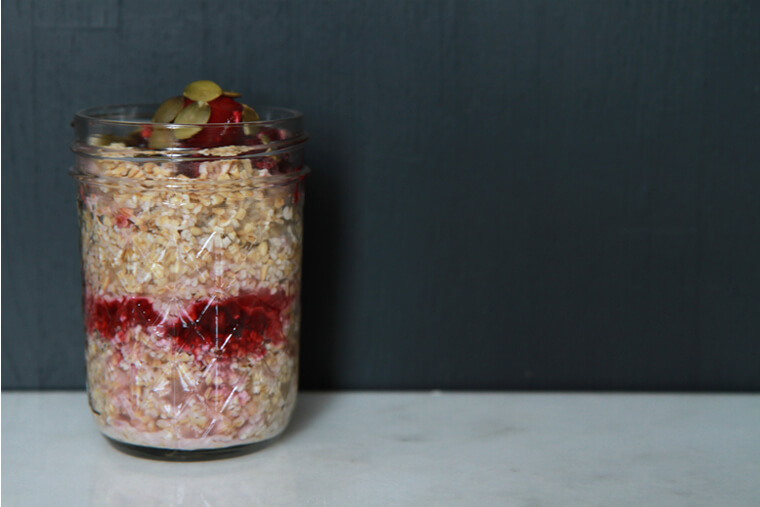 Bircher Muesli with Berry Compote
Serves 2
Ingredients:
1 cup grain of choice – quinoa, buckwheat, oats (I used steel cut oats)
1+ cup of non-dairy milk or water (I used almond milk)
2 Tbsp ground flax seed or chia seeds
berries of choice
nuts or seeds
Additional topping ideas:
pomegranate
bee pollen
cacao nibs
coconut flakes
nut butter
Directions:
Combine the grain, non-dairy milk or water, flax/chia seeds in a large mixing bowl.
Mash fresh berries with a spoon until mostly smooth.
Spoon both mixtures creating layers into a container with a lid or place in jars for individual servings. Leave covered overnight in the fridge.
Top with fresh berries or whatever you have at home. Enjoy.
Keeps for 3-4 days in the fridge.
Tell me, what other types of recipes, nutrition advice or other daily things would you like to see featured on the blog? Are there any design elements or functions you would like added/changed? Leave comments below! You can also join in the conversation on the figgy & sprout Facebook page, Twitter and Instagram too. Don't forget to sign up for the monthly newsletter while you're at it!