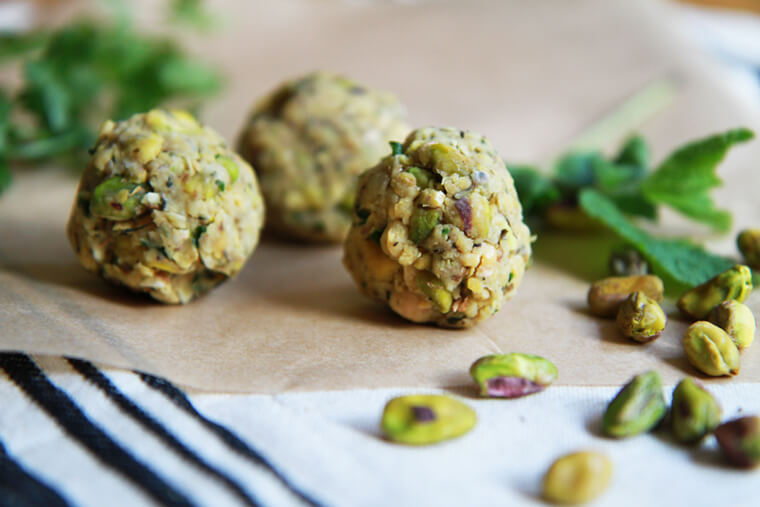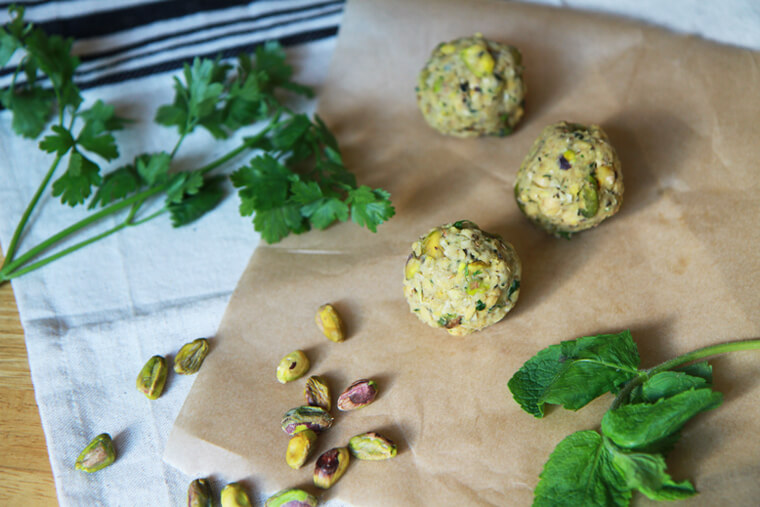 There are Mediterranean dishes that I have become enamored with. With refreshing dishes like tabouleh and cucumber salads, bold use of garlic and onion, many vegetarian options, and of course, hummus, how can you go wrong?
Quick and easy weeknight cooking is something I try to focus on here. I quite enjoy the process of cooking, especially when I'm feeling inspired, but I think simpler is better. This is one of those meals that we've been eating a lot lately and not writing about because it always seems to get gobbled up before I get the chance to capture it in a photo.
These falafels are baked to perfection and burst with flavor from the nuts and herbs. Keeping ours gluten- free, we wrapped it up in some delicious and crisp white cabbage, but if you want a more hearty meal you could certainly wrap it all up in a good pita or flatbread. They received rave reviews in my house and I'm sure they will in yours.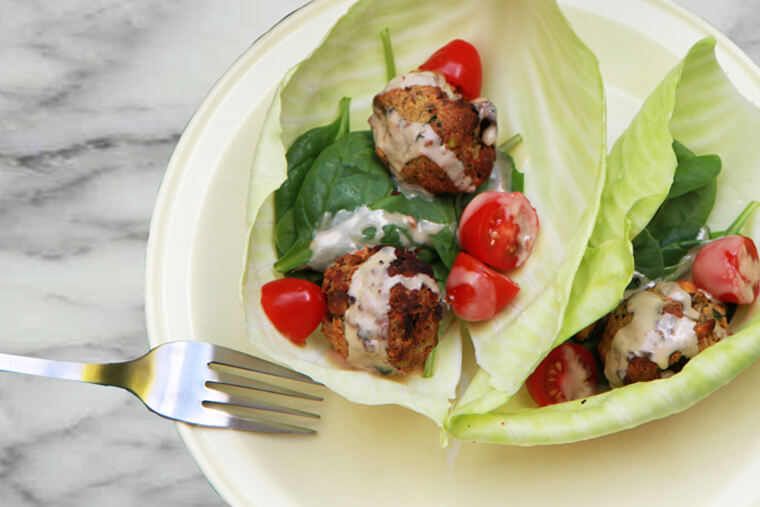 Baked Pistachio and Herb Falafel
Adapted from Green Kitchen Stories
Makes about 12  falafels
Ingredients:
4 sprigs of fresh parsley
4 sprigs of fresh mint
2 cloves garlic
3/4 cup pistachio nuts
1 can chickpeas, drained and rinsed well
1 – 2 Tbsp. olive oil
Dash of cumin
1 Tbsp. flour (I used gluten-free rice flour)
1 tsp. baking powder
Salt and Pepper
Directions:
Preheat oven to 375°F (190°C) .
In a food processor, pulse the garlic and herbs together for a few seconds. Add in nuts and pulse until well combined. Add in the rest of the ingredients and pulse until mixture is almost smooth, but still a little rough in texture.
Roll into balls and place on a baking sheet lined with parchment paper.
Place in preheated oven and bake for about 15 minutes, turning every 5 minutes until they are browned and warmed through.
Tahini Dressing
Ingredients:
1/2 cup tahini (sesame seed paste)
1/2 cup water
Juice of 1 lemon
2 cloves garlic, minced
Pinch of sea salt
Directions:
Place all ingredients in the blender.
Blend on high until smooth and creamy. If sauce gets too thick as it sits, stir in a little more water or lemon juice to thin out.
Assembling the falafel
1 head white cabbage (or any lettuce with big leaves)
falafels (recipe above)
tahini dressing (recipe above)
Hold one cabbage leaf in your hand, add 2 or 3 falafels, a spoonful of tahini dressing and top with some fresh herbs and whatever creations you may fancy. Fold it gently. Enjoy!