Personally I need routine and especially a morning one. It helps me to feel grounded and stable – two things that are vital to my overall wellness. There is something quite special about creating space in the morning for you to experience just for yourself. Lacing up my sneakers and hitting the pavement first thing in the morning is (nearly) the daily norm for me. After completing my morning training session I feel alert and ready for the day. With the Dublin Marathon only four days away, I'm tapering on the training while loading up on tons of nutrients.
Want to know my secret weapon? Meet my latest obsession, the Açaí Smoothie! Açaí (pronounced "Ah-Sigh-EE") is a Brazilian superfruit berry that grows on palm trees in Central and South America. It tastes like a mix between bitter chocolate and blueberries and it has the highest content of antioxidants in any fruit.
Often touted as a "superfood" by marketers, these berries have high levels of antioxidants that protect cells, reduce the effects of aging and may decrease the risk of some diseases (including heart disease and cancer). But beyond their antioxidant benefits, I enjoy açaí berries because of their rich and almost chocolatey flavor. The berries have a unique but delicious taste – and, they make for a great breakfast, dessert or post-workout snack.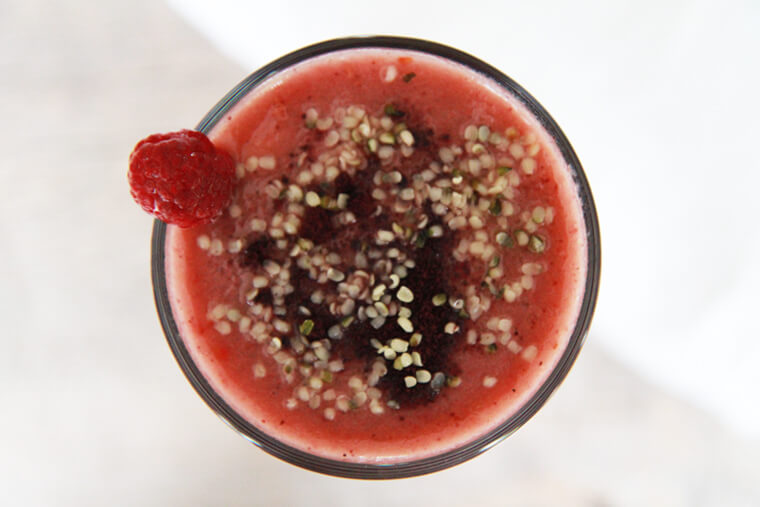 Açaí Smoothie
Vegan, Raw & Gluten-free
Makes 1 large smoothie
Ingredients:
2 tsp. Açaí powder
1 cup non-dairy milk, water or juice (I used water)
1 banana
1 apple, cored and sliced
1 cup frozen berries (I used raspberries)
sprinkle of hemp seeds (optional)
Directions:
Combine all the ingredients in a blender and blend until smooth. Enjoy!